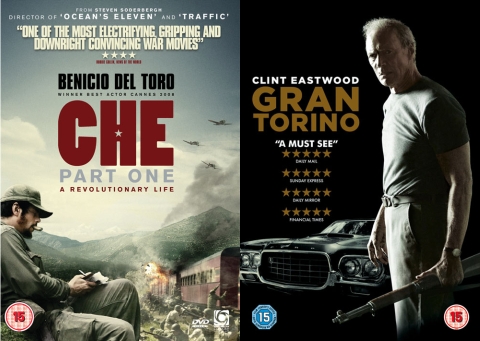 DVD PICKS
Che Part One and Part Two (Optimum): This long gestating biopic of Che Guevara from director Steven Soderbergh got a mixed reaction after it premiered at Cannes in May 2008.
Some were put off by the four hour running time and the whole question of whether or not it was actually two films. It would probably be most accurate to describe it as two films merged together as one: The Argentine deals with the Cuban revolution in 1959 whilst Guerrilla explores his final years in Bolivia.
In the UK it got released as Che: Part One and Che: Part Two, with some special double-bill screenings at certain cinemas. Now with the DVD release, it is worth saying again what an audacious and thrilling piece of cinema this project turned out to be.
In the first part we see the Cuban Revolution inter-cut with Guevara's 1964 trip to the United Nation and refreshingly Soderbergh eschews the narrative cliches of many historical biopics. Instead of ponderous meditations on his motives or background we are plunged into the raw action of the revolutionary's life.
Some viewers may find this off putting but as the film progresses the production design, costume, acting and cinematography get ever more hypnotic, drawing us into this world.
Soderbergh has always been a gifted technical filmmaker interested in pushing the boundaries of mainstream cinema and here he crafted one of his most interesting and accomplished films with the help of a revolutionary digital camera (appropriately called the RED One) that allowed him to make an epic using guerrilla film-making techniques.
The spiritual core of the film is an outstanding performance from Benicio del Toro, who captures the physical and vocal mannerisms of Che so well that he manages to make you forget about the face that spawned so many t-shirts and posters.
Che will be available on DVD and Blu-ray in two parts or as a box-set.
The extras for Che Part One are:
Behind the Scenes Featurette
Exclusive Interview with Steven Soderbergh
Theatrical teaser trailer
The extras for Che Part Two are:
Exclusive interview with Benicio Del Toro
Interview with Alberto Iglesias (composer)
Interview with Jon Lee Anderson (Author of Che Guevara: A Revolutionary Life)
Theatrical trailer
On DVD the films are presented in anamorphic widescreen with Spanish DD2.0 Stereo, Spanish DD5.1 Surround audio and English subtitles.
On Blu-ray (Region B) the films are presented in 1080P Widescreen with Spanish 5.1 DTS-HD Master Audio and English subtitles.
[ad]
Gran Torino (Warner Bros): Just after directing Changeling, Clint Eastwood returned with another film, which he directs and stars in (reportedly his acting swan song). He plays a disgruntled Korean War vet who sets out to reform his neighbour, a young Hmong teenager (Bee Vang), who tried to steal his vintage 1972 Gran Torino car.
Although this project came together quickly, it is a lean and satisfying tale told with Eastwood's customary efficiency and class. It would be safe to categorise it as a drama, but there are some very funny sequences, mostly involving the culture clash between Eastwood's gruff character and his immigrant neighbours.
There are times when the film skates on thin ice when dealing with the issue of race, but Eastwood and screenwriter Nick Schenk deserve credit for venturing in territory that most Hollywood execs wouldn't touch with a bargepole.
A pleasingly old fashioned drama of simple pleasures and a fitting swansong for the iconic tough guy persona Eastwood has owned for a generation.
Extras on the regular DVD include:
Manning the Wheel as Reflected in American Car Culture
Gran Torino: More than a Car. Visit Detroit and the Woodland Dream Cruise, an Annual vintage car event where buffs describe the unique bond between man and vehicles
The Eastwood Way: Exploring the Actor/Director's filmmaking process up close (Blu-ray exclusive)
The following extras will be made available over BD-Live (Blu-ray only):
Jamie Cullum's music video performance of the original theme song from the motion picture Gran Torino.
Gran Torino: Next Door is a 15 minute Hmong documentary. For Hmong Americans, Gran Torino marks a cinematic debut – the first time they have participated as characters, cast and crew in a major motion picture. The documentary takes a very personal look at the Hmong experience and their stories, both on and off the set.
Additional Theatrical Trailers
[ad]
ALSO OUT
A Rage in Harlem (Optimum)
All The Rivers Run (Fremantle)
American Teen (Optimum)
Bloody Mama (Optimum)
Bust – The Complete Series (Fabulous Films/Fremantle)
Confessions of a Shopaholic (Disney)
Doctor Who: Planet of the Dead (2 Entertain)
Flame & Citron (Metrodome)
I Know How Many Runs You Scored Last Summer (Anchor Bay)
Insatiable: Diary of a Sex Addict (Momentum)
Lift / Travellers / Calais: The Last Border – Three films by Marc Isaacs (Second Run DVD)
Lipstick Jungle – Season 2 (Universal Playback)
Naruto Unleashed: Complete Series 5 (Manga)
Naruto Unleashed: Series 6 Part 2 (Manga)
New in Town (EIV)
Push (Icon)
Rachel Getting Married (Sony)
Revolutionary Road (Paramount)
Robin Hood Series 3 (2 Entertain)
Secret Smile (ITV DVD)
Surveillance (E1 Entertainment)
The Cell 2 (EIV)
The House by the Cemetery (Arrow)
> Browse more DVD Releases at Amazon UK and Play
> Check the latest DVD prices at DVD Price Check
> Take a look at the current UK cinema releases (W/C Friday 26th June)