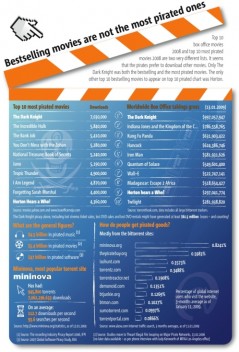 How much of an effect does piracy have on movies?
Some feared that Wolverine's box office would suffer as a result of a test print being leaked last month.
However, it would appear that piracy didn't have that much of an effect because it earned over $80 million this weekend.
My feeling is that blockbusters are largely immune to piracy because they are so heavily marketed and aimed at such a wide audience.
In Wolverine's case a rumoured $50 million or more was spent on TV, radio, online and outdoor advertising.
Plus, films like this open on an insane number of screens with multiple screenings throughout the day – in some cases double what other releases are doing.
In short, that they have to be catastrophically bad to flop. 
With Wolverine, the film did get mixed reviews and, I suspect, iffy word-of-mouth but that won't stop it earning a blockbuster sized gross.
The whole leaking affair probably helped get word out about the film and whilst it will probably be hit hard in the next two weeks by Star Trek and Angels and Demons, I don't think anyone will be bleating about piracy deflating admissions until, er, the next high profile leak.
Today I came across this image on Flickr of a chart about the most pirated movies of 2008 compared to the highest grossing movies. 
I'm not sure about the exact quality of the research from TorrentFreak but – even if only partly accurate – it still makes for interesting reading. 
N.B. These figures were taken in January 2009
THE TOP 10 MOST PIRATED MOVIES OF 2008
The Dark Knight (7,030,000 downloads)
The Incredible Hulk (5,840,000 downloads)
The Bank Job (5,410,000 downloads)
You Don't Mess With The Zohan (5,280,000 downloads)
National Treasure: Book of Secrets (5,240,000 downloads)
Juno (5,190,000 downloads)
Tropic Thunder (4,900,000 downloads)
I Am Legend (4,870,000 downloads)
Forgetting Sarah Marshall (4,400,000 downloads)
Horton Hears A Who! (4,360,000 downloads)
Now, let's compare this with…
THE TOP 10 HIGHEST GROSSING MOVIES OF 2008
The Dark Knight

($996,910,887)

 
Indiana Jones & the Kingdom of the Crystal Skull ($786,558,759)

 
Kung Fu Panda

($631,869,621)

 
Hancock

 

($624,386,746)

 
Iron Man

 

($581,931,630)

 
Mamma Mia!

($572,082,632)

 
Quantum of Solace

($537,133,451)

 
WALL-E

Disney ($502,723,636)

 
Madagascar: Escape 2 Africa

 

($460,215,180)

 
The Chronicles of Narnia: Prince Caspian

 

($419,646,109)
The most surprising aspect is how well The Bank Job and You Don't Mess With The Zohan did in the piracy chart and it raises some interesting questions. 
Does this mean that people wanted to see those films but were not that keen on actually paying at the cinema or on DVD? (There is of course the added factor that downloading it illegally could lead to a later sale).
Does online buzz spread in a different way to traditional media ads?
What valuable lessons can studios learn from patterns of piracy?
There are also some stats on how pirated films compare to music and software.
$4.5 billion of music downloads
$5.4 billion in movies downloads 
$47 billion in software downloads
Plus, there are some figures on which filesharing sites are used.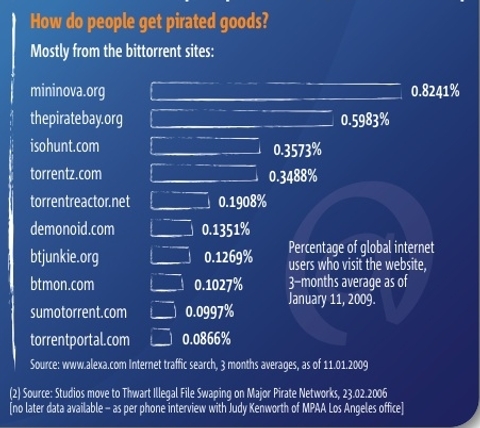 My take is that piracy isn't going to go away anytime soon. 
The idea that big media companies should lobby governments to introduce draconian laws that force ISPs to punish users is a dead duck in the short and long term.
The main reason it won't work is because:
Telecoms companies should not be agents of large media companies.
Users who really want to pirate content will usually be a step ahead of any attempt to stop them.
Suing your customers (as the RIAA found out) is likely to inflame the situation.
It deflects from the pressing need for better legal download services.
One can only hope that the film industry learns from the disastrous errors the music industry made a few years ago.
Like terrorism and drugs, piracy will never be defeated but there can be ways of reducing its impact.