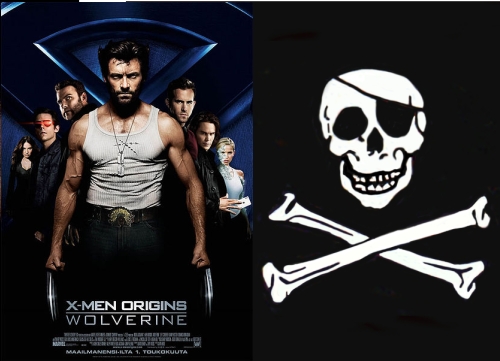 A decent work print of Wolverine has been leaked and is now doing the rounds on various file sharing sites.
For those not familiar with the film, it is a prequel to the X-Men trilogy, focusing on the mutant Wolverine (Hugh Jackman), is directed by Gavin Hood and due for worldwide release on May 1st.
Part of me thought that this was some kind of April Fool's Joke but if you go to one of the most (in)famous torrent sites – you know, the one from Sweden – then you will see that the most popular torrent is indeed the new X-Men prequel.
Here is a screen grab of what happens when you do a search: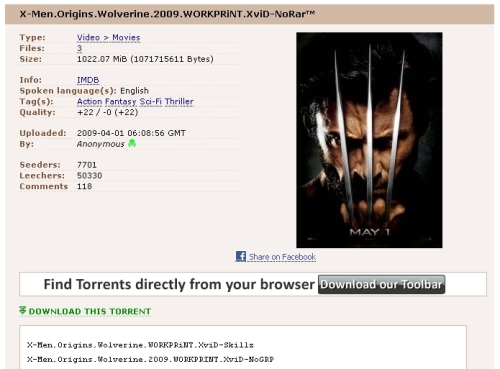 Drew McWeeny at Hitfix reports:
20th Century Fox is about to have an interesting practical test on one of their biggest summer films. 

 "X-Men Origins: Wolverine" leaked online today in what appears to be a near-finished DVD quality rip, marred only by a few unfinished FX shots. 

As soon as files go up, they're coming right back down as Fox legal chases pirates around the web, but that toothpaste is out of the tube, gentlemen.   
He also got this statement from 20th Century Fox:
"Last night, a stolen, incomplete and early version of X-Men Origins: Wolverine was posted illegally on a website.

It was without many effects, had missing and unedited scenes and temporary sound and music.

We immediately contacted the appropriate legal authorities and had it removed.

We forensically mark our content so we can identify sources that make it available or download it.

The source of the initial leak and any subsequent postings will be prosecuted to the fullest extent of the law – the courts have handed down significant criminal sentences for such acts in the past.

The FBI and the MPAA also are actively investigating this crime.

We are encouraged by the support of fansites condemning this illegal posting and pointing out that such theft undermines the enormous efforts of the filmmakers and actors, and above all, hurts the fans of the film."
There is no doubt that this is a big deal. 
Although there have been leaks before on films like Hostel 2 and Sicko, whilst those films opened at cinemas, I can't really remember a summer blockbuster leaking like this online. 
One can only assume that it came from someone who had access to a digital copy of the whole film.
Someone at an organisation involved in post production? Maybe a disgruntled employee somewhere in the production food chain? Perhaps a superhacker who got access to a secure FTP site?
Given the high profile nature of the production I imagine Tom Rothman and Jim Gianopulos will be paying a lot of time and money to get to the bottom of it.
Obviously, it is an embarrassing security issue for a major studio on a tent-pole production but they will also be concerned about how it impacts the opening box office.
I may be wrong, but I don't think it will have as much of an impact as some think.
For a film like this, with millions spent on marketing before it opens on thousands of screens around the globe, a big opening is essentially guarenteed.
DVD screeners of Oscar season movies have been pirated for several years now and the box office impact of that is debatable.
However, this episode certainly gives Fox a good excuse if Wolverine doesn't have a good opening.
But what if it doesn't? What exactly does a high profile torrent leak actually mean in practical terms? And can we really reach a conclusion based on one film? 
My gut feeling is that torrent sites are a bit too fiddly and complicated for the mass online audience. 
But then again, maybe it will have an impact.
Time will tell.
> Wolverine at the IMDb
> More about filesharing and the X-Men series at Wikipedia
> A wacky conspiracy theory over at Hollywood Elsewhere