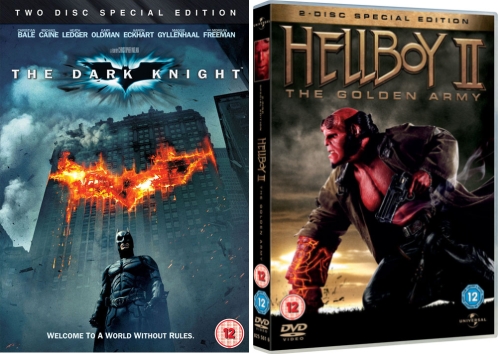 DVD PICKS
The Dark Knight (Warner): The best blockbuster of the year gets a handsome DVD release from Warner Bros. If you missed it at cinemas this sequel to 2005's Batman Begins reunites director Christopher Nolan and star Christian Bale, who reprises the role of Bruce Wayne/Batman. With the back story of the first film out of the way, this jumps head first into the ongoing war against crime in Gotham City.
Now the forces of law and order under Batman, Lt Jim Gordon (Gary Oldman) and District Attorney Harvey Dent (Aaron Eckhart) have to deal with a new criminal known as The Joker (Heath Ledger). Maggie Gyllenhaal joins the cast as Rachel Dawes (replacing Katie Holmes) whilst Michael Caine (as Alfred) and Morgan Freeman (as Lucius Fox) both return in key supportg roles.
Managing to transcend the usual limitations of the comic book genre, its ambitious approach owes more to crime epics like Heat and The Godfather than the usual summer comic book adaptation. The admirably dark and oppressive tone is cleverly offset by some ingenious plotting and some truly memorable performances, especially from Ledger and Oldman.
Overall the technical contributions are outstanding – of particular not are Wally Pfister's cinematography, Nathan Crowley's production design and Lee Smith's editing. Special mention must also go to the diverting score by Hans Zimmer and James Newton Howard, which sadly won't be up for Oscar consideration due to a technicality.
It really struck a chord at the US box office – it is currently second only to Titanic there –  and managed to tap into current themes of terror, corruption and surveillance without being preachy. 
The extras on the 2-disc edition include:
Gotham Uncovered

: How Christopher Nolan and his team developed the new Bat-suit and Bat-pod and composer Hans Zimmer musically characterized The Joker's reign of chaos.

The Dark Knight IMAX® Scenes

: View these 6 action-packed sequences – shot on the largest format possible – in their original IMAX framing, just as they were intended

Gotham Tonight

: 6 episodes of Gotham Cable's premier news program

The Galleries

: Poster art and production stills
Digital Copy of the Feature Film
On the Blu-ray disc the following features are included:
1080P 2.40:1 Widescreen
English 5.1 Dolby TrueHD
English 5.1, English 2.0, French 5.1 and Spanish 5.1 Dolby Digital
English, French and Spanish subtitles (Movie & Select Bonus Material)
Disc 1: Movie with Focus Points
 

Gotham Uncovered

: Creation of a Scene – Director Christopher Nolan and creative collaborators unmask the detail and planning behind the film including stunt staging, filming in IMAX, the new bat-suit and bat-pod…and more.
Disc 2: Special Features
Batman Tech

: The incredible gadgets and tools (in Hi-Def)

Batman Unmasked

: The Psychology of The Dark Knight – Delve into the psyche of Bruce Wayne and the world of batman through real-world psychotherapy (in Hi-Def)

Gotham Tonight

: 6 episodes of Gotham Cable's Premier News Program

The Galleries

: The Jokes Cards, Concept Art, Poster Art, Production Stills, Trailers & TV Spots
Hellboy II: The Golden Army (Universal): Another sequel for a comic book character sees another hugely talented filmmaker impress in the mainstream realm. Although this wasn't quite as good as The Dark Knight, director Guillermo Del Toro managed to demonstrate his usual intelligence, wit and style in this follow up to the 2004 original.
Ron Perlman returns as the title character, a demonic tough guy (turned good) now working for the US government as a secret agent. After a ruthless leader (Luke Goss) tries to awaken an unstoppable army of creatures, Hellboy and his colleagues have to try and stop him.
What's impressive here is the power of Del Toro's imagination, which has already contributed to such marvellous films as Cronos, The Devil's Backbone and Pan's Labyrinth and the breezy charm of the script which doesn't feel inhibited about including a Barry Manilow sing-a-long.    
The extras on the 2-disc special edition include the following:
1.85:1 Anamorphic Widescreen
English DD5.1 Surround
Main Feature Disc Subtitles: English SDH
Bonus Disc Subtitles: English SDH, French, Italian, Spanish, German, Bulgarian, Croatian, Czech, Dutch, Greek, Hebrew, Polish, Portuguese, Romanian, Turkish, Slovenian, Arabic, Danish, Finnish, Hungarian, Icelandic, Norwegian, Swedish
Hellboy: In Service of the Demon – Over two hours of an extensive, in-depth look at the creation of Hellboy II
Director's Notebook
Production Workshop Puppet Theatre
Image Galleries
Deleted Scenes with Optional Director's Commentary
Troll Market Tour with Guillermo del Toro
Feature Commentary with Guillermo del Toro
[ad]
ALSO OUT 
Angus, Thongs and Perfect Snogging (Paramount)
Austin Powers: Goldmember (EIV)
Austin Powers: The Spy Who Shagged Me (EIV) 
Star Wars: The Clone Wars (Warner)
The Fox and The Child (Pathé)
The Girl Who Leapt Through Time (Manga)
The Stranglers On Stage On Screen (Eureka)
The Wire: The Complete Series (HBO)
[ad]
> Buy The Dark Knight and Hellboy II: The Golden Army at Amazon UK
> Browse more DVD Releases at Amazon UK and Play
> Check the latest DVD prices at DVD Price Check
> Take a look at the current UK cinema releases (W/C Friday 5th December)