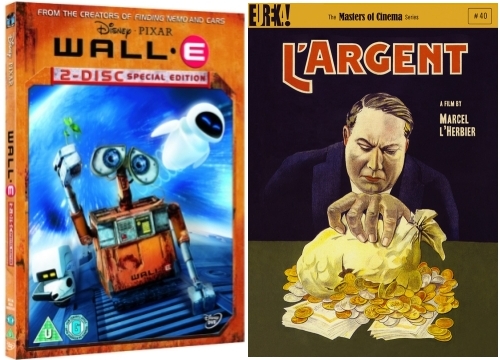 DVD PICKS
WALL-E (Disney): The new film from Pixar starts far into the future with the last robot on earth, a trash collector called WALL-E, being visited by another robot called EVE. When they come across plant life it triggers a response from the rest of mankind, who for centuries have existed on a giant mothership faraway.
Directed by Andrew Stanton (who also made Finding Nemo in 2003), this magical tale contains some of the most stunning visuals yet seen in animated films. Added to that is a surprisingly moving love story between two very different robots and a narrative filled with interesting themes such as: the environment, our relationship with technology and even obesity.
The extras on this impressive two-disc set are:
Disc 1
'Presto': Theatrical short that was seen in cinemas (5.30)
BURN-E: An exclusive short about a minor character in the film.
'Up' Teaser for the new Pixar film
Animation Sound Design: Building Worlds From The Sound Up featurette
Audio Commentary with Director Andrew Stanton
Deleted scenes
Easter Eggs
Disc 2
Deleted scenes
The Imperfect Lens making of featurette
Captain's Log featurette
Notes on a Score featurette
Life of a Shot featurette
Robo-Everything featurette
WALL-E & EVE featurette
Buy-n-Large Industrial Shorts (x5)
WALL-E trailers
Poster gallery
The Pixar Story documentary*
All in all it is a highly impressive DVD package and one of the essential films of the year. 
L'Argent
(Eureka): A UK DVD release of Marcel L'Herbier's classic film as part of their
Masters of Cinema Series
. Adapted from
Émile Zola
's
novel of the same name
, Marcel L'Herbier's L'Argent [Money] is a notable film of late-silent era cinema. Filmed in part on location at the Paris stock exchange, it explores a world of intrigue, greed, decadence, and ultimately corruption and scandal when business dealings and amorous deceit combine. (Particularly relevant for the current financial climate!).
Never before released on home video in the UK, The Masters of Cinema Series is proud to present the UK edition of a restoration that won the prestigious Best Silent Film DVD award at the 2008 Il Cinema Ritrovato festival, Bologna, Italy.
A raft of special features on the two-disc edition include:
A pristine transfer from a fine grain print struck from the original negative, featuring the director's cut fought for by L'Herbier over many years, the film speed as projected in the late 1920s, and the entirety of each frame fully displayed
New and improved English subtitles
Newly improvised musical accompaniment by French composer and pianist Jean-François Zygel, who also provides a video introduction to the film and a documentary about accompanying silent cinema
About L'Argent (Autour de L'Argent) (1928) – Jean Dréville's 40 minute "making of" documentary
Archival footage of star Brigitte Helm (fresh from Fritz Lang's Metropolis) arriving in Paris for the shooting of L'Herbier's film
Archival screen tests of the L'Argent actors
Marcel L'Herbier: Poet of the Silent Art (Marcel L'Herbier: Poete de L'Art Silencieux) (2007) – a 54 minute documentary profiling the director
A demonstration of L'Herbier's innovative sound techniques, which used 78rpm records during key scenes of L'Argent
A lavish 80-page perfectly-bound booklet with archival publicity stills, a long essay by noted professor of French film Richard Abel (French Cinema: The First Wave, 1915-1929; French Film Theory and Criticism: A History/Anthology, 1907-1939; The Ciné Goes to Town: French Cinema, 1896-1914), newly translated interviews with L'Herbier, and newly translated extracts from the director's biography.
The film might seem a distant arthouse oddity but given the paucity of decent DVD releases this week, it is well worth buying.
[ad]
ALSO OUT
ER Season 13 (Warner)
Lead Balloon – Series 2 (2 Entertain)
Mamma Mia! (Universal)
Merlin – Volume 1 (2 Entertain)
Mister Maker – Let's Make It! (2 Entertain)
Oasis of Fear (Shameless)
Ray Winstone's Football Blinders and Blunders (4DVD)
Roary the Racing Car: Stars 'n' Cars (2 Entertain)
Seed (Metrodome)
Survivors – Series 1 to 3 (2 Entertain)
The Armstrong and Miller Show (2 Entertain)
The Discovery of Heaven (Eureka)
The X-Files: I Want To Believe (Fox)
Who Wants To Be A Millionaire – 10th Anniversary (Universal)
World War II – Behind Closed Doors (BBC)
[ad]
> Buy WALL-E and L'Argent on DVD at Amazon UK
> Browse more DVD Releases at Amazon UK and Play
> Check the latest DVD prices at DVD Price Check
> Take a look at the current UK cinema releases (W/C Friday 21st November)