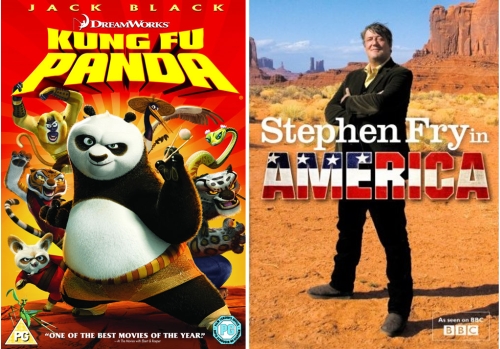 DVD PICKS
Kung Fu Panda (Paramount): One of the best animated films of the year saw Jack Black voice a panda named Po, along with Jackie Chan, Dustin Hoffman, Angelina Jolie, Lucy Liu, Seth Rogen and Ian McShane in supporting roles. Set in ancient China, the story involves around a bumbling panda who gets selected to join a group of kung fu warriors who must defend their village. Directed by John Stevenson and Mark Osborne it was one of the best efforts from DreamWorks in recent years with some witty ideas and well executed set-pieces (a prison escape being one of the highlights).
The 2-disc edition is the one to go for as it has a solid selection of extras which break down as follows: 
Disc 1 (Single-Disc Edition):
Audio Commentary
Meet the Cast
Tech of Kung Fu Panda: Pushing the Boundaries
Conservation International – Help Save Wild Pandas
DWA Jukebox
Trailers
Set-Top Game: Dragon Warrior Training Academy
Disc 2 (on the "Kung Fu Master Edition") As above, plus a second disc with the following additional extras:
Be a Kung Fu Master
Animals of Kung Fu Panda
What Kung Fu Style Are You?
Do You Kung Fu?
"Kung Fu Fighting" Music Video
Learn the Panda Dance
Learn to Draw
Sound Design
Land of the Panda
Mr. Ping's Noodle House
How To Use Chopsticks
Inside the Chinese Zodiac
Po's Power Play
Interactive DVD Rom activities: Dumpling Shuffle
HP Printable Projects
KFP Sound Machine
KFP and MAD 2 Activision Game Level
Kung Fu Panda Around the World
Po Around the World
Stephen Fry in America (West Park Pictures): This six-part BBC series saw Stephen Fry explore America – a country in which he was almost born. Each episode sees him travel around various states in a modified London taxi, as he attempts to explore the history and attitudes of the United States. Beginning in New England and Washington his travels take him through the Deep South, Mississippi, the Canadian border regions and Montana, the South West before concluding in Hawaii and the Pacific.
The DVD contains some unseen footage not shown on the BBC broadcast including: Dice Game in Eastport Maine; Whale talk in Nantucket; On the Mayflower in Plymouth Rock and Oyster fishing in Louisiana.
[ad]
ALSO OUT
Benidorm Series 2 (2 Entertain)
Bones – Season 3 (Fox)
Brendon Burns Live – So I Suppose This Is Offensive Now! (Universal)
Chuggington (2 Entertain)
City of Men (Buena Vista)
Creature Comforts USA – Series 3 (2 Entertain)
Doctor Who – Season 4 (2 Entertain)
Free Zone (Bluebell Films)
Golden Balls: The DVD Game (4DVD)
I Served The King of England (Arrow)
Manchester United DVD Annual 2008 (2 Entertain)
Michael McIntyre – Live & Laughing (Universal)
Richard Hammond's Top Gear Stunt Challenge (2 Entertain)
Sean Lock Live DVD (Universal)
Shaun the Sheep Wash Day (2 Entertain)
Star Stories – Series 2 (4DVD)
The Chronicles of Narnia: Prince Caspian (Disney)
The Mighty Boosh Series 1 to 3 (2 Entertain)
The Rutles: All You Need Is Cash (30th Anniversary Edition) (Second Sight)
The Sopranos: The Complete Series (HBO)
This Christmas (Sony)
Thriller in Manila (4DVD)
Tigrero (Bluebell Films)
[ad]
> Buy Kung Fu Panda and Stephen Fry in America on DVD at Amazon UK
> Browse more DVD Releases at Amazon UK and Play
> Check the latest DVD prices at DVD Price Check
> Take a look at the current UK cinema releases (W/C Friday 14th November)