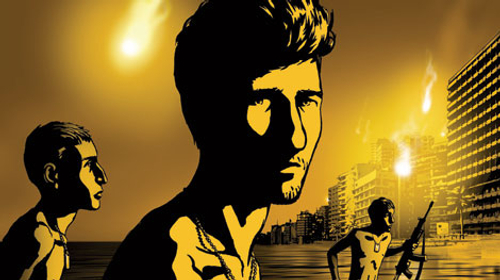 This morning I went to the press screening of Waltz With Bashir which is showing at the Centrepiece Gala on Friday.
It deals with the 1982 Sabra and Shatila massacre and the memory of the Israeli soldiers involved in the invasion of Lebanon in the early 1980s. 
Directed by Ari Folman, it examines his own experiences on that mission and the struggle to remember what happened when he interviews various army colleagues from the time.
The strange title is taken from a scene with one of Folman's interviewees, who remembers taking a machine gun and dancing an 'insane waltz' amid enemy fire, with posters of Bashir Gemayel lining the walls behind him.
Gemayel was the Lebanese president who whose assassination helped trigger the massacre.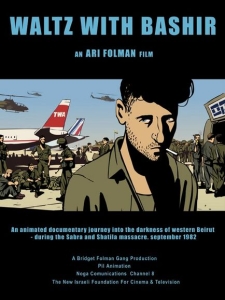 The most unusual and startling aspect of the film is that it is animated, an unconventional approach for what is essentially a documentary.
Although very different in theme and tone to Creature Comforts it appears to adopt the same device in which real conversations are animated and stylised. 
A hugely ambitious film, it took four years to complete and is and international co-production between Israel, Germany and France.
Back in May it premiered to huge acclaim at Cannes and was one of the front runners to win the Palme d'Or. 
Much of that praise is richly deserved because this is an arresting and highly original film.
It deserves particular credit for taking a highly politicised and contentious event and yet somehow makes a wider point about the futility of war whose relevance is not just confined to the cauldron of the Middle East.
Another aspect which makes this story so intrguing is that the Israeli troops were not guilty of the massacre itself but of standing by and letting Lebanese miltia murder Palestinian refugees. 
It is the memory of, or rather the inability to remember, this event that lies at the core of the story. Has Folman unconsciously blocked out the memory? Does guilt cloud any rational perspective? 
The raw power of the source material is enhanced by some extraordinary imagery, with a remarkable and inventive use of colour for certain sections, especially those involving the sea.
Added to this is Folman's narration which has an almost hypnotic effect when set alongside the visuals, almost as if the audience is experiencing a dream whilst watching the film itself. 
The film won 6 Israeli Film Academy awards (including Best Picture) and looks likely to be a strong contender for the Best Foreign Film at the Oscars.
It might seem like a strange film to make about such a serious subject but it's surreal approach only makes the horrors of war seem all too real. 
This is the trailer:
Waltz With Bashir screens at the festival on Friday and opens in the UK on Friday 21st November
> Official site
> Waltz With Bashir at the IMDb
> Reviews of the film from Cannes back in May