It was a bit of a muted day for me today as I am still trying to shake off a cold and had to catch up on some rest. 
However, nothing was going to stop me from the press screening this morning of Charlie Kaufman's directorial debut Synecdoche, New York.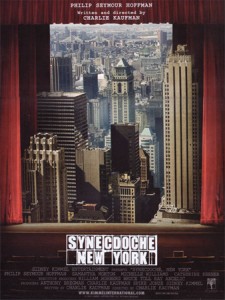 I've put up a more detailed post about the film here, but it really is a startling film that is going to spark off a thousand arguments about it's meaning, overall quality and what the hell is going on in Kaufman's head.
The plot involves a theatre director (Philip Seymour Hoffman) who moves his company to a warehouse where he attempts to create a life-size replica of New York as part of his new play. 
Catherine Keener, Michelle Williams, Samantha Morton and Hope Davis co-star. 
It gets a gala screening next week, so I'll write more about it then but I'm sure that it will be a film talked about in years to come as either a work of genius or madness – perhaps even both.
The response at the screening was respectful to begin with and there were some laughs sprinkled throughout but as it went into a third act I sensed a weary sadness taking hold. 
That is part of the theme of the film, but also because it is actually dealing in some rather heavy duty subject matter towards the end despite the surreal 'Kaufmaness' of it all. 
I'm very keen to see it again as it is an extremely dense and layered film – some of the concepts are truly ingenious – and will probably grow with repeated viewing.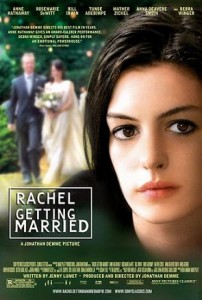 One of the main gala screenings tonight was Rachel Getting Married, which is directed by Jonathan Demme.
It stars Anne Hathaway as an ex-model who has been in and out from rehab for the past 10 years, who returns home for the wedding of her sister Rachel (Rosemarie DeWitt).
There are some interesting and accomplished things about the film, notably the raw and loose shooting style Demme has opted for as well as two fine performances from Hathaway and DeWitt.
But despite the Oscar buzz surrounding it I was disappointed at the lack of any real drama and the insufferable nature of many of the conversations in the film. 
Emotions and thoughts are too easily verbalised and at it's lower moments the film plays like an unofficial sequel to Margot at the Wedding – another wedding set film from last year which explored similarly tedious forms of middle class self loathing.
There is also a scene involving a dishwasher that is so interminable that I would have actually rather washed some dishes for the duration of it.
Debra Winger is also utterly wasted in a small role which made you wonder why they bothered casting her in the first place.  
That said I think Hathaway has a good shot at an Oscar nomination for her work here, even if the film itself is something of a disappointment. 
If you have been to the festival or want to discuss any of the films then do leave a comment below or email me.
> My full review of Synecdoche New York
> Rachel Getting Married at the IMDb
> Gala screenings at the LFF this year