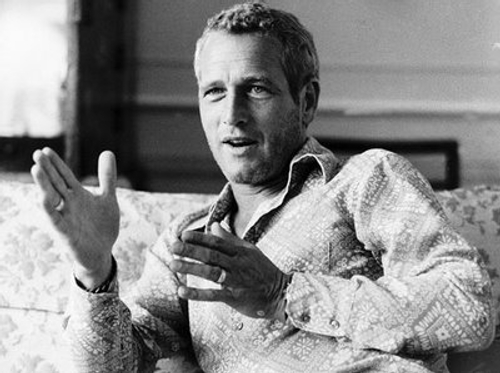 Screen icon Paul Newman has died aged 83.
The AP report:
A spokeswoman for screen legend Paul Newman says the actor has died at age 83. Spokeswoman Marni Tomljanovic says Newman died Friday of cancer. No other details were immediately available.

Newman was nominated for Academy Awards 10 times, winning a regular Oscar in 1987 for "The Color of Money" and two honorary ones. He was equally at home in comedies such as "The Sting" and dramas such as "Hud."

He sometimes teamed with his wife, Joanne Woodward, also an Oscar winner for the 1957 film "Three Faces of Eve."
One of the most famous and enduring actors in Hollywood, his career spanned several decades and included roles in Exodus (1960), The Hustler (1961), Hud (1963), Harper (1966), Hombre (1967), Cool Hand Luke (1967), The Towering Inferno (1974), Slap Shot (1977) and The Verdict (1982).
The egg eating scene from Cool Hand Luke remains one of his most famous:
He also memorably teamed with Robert Redford and director George Roy Hill for Butch Cassidy and the Sundance Kid (1969) and The Sting (1973).
This short video from the Sundance Channel features Newman and Redford reminiscing about their early days as actors:
Although his first marriage ended in divorce, his second to Joanne Woodward became famous for being one of the most enduring in the history of Hollywood.

She won an Oscar at the very start of their marriage, for her performance in The Three Faces of Eve (1959) and they went on to appear together in films like The Long, Hot Summer (1958), From the Terrace (1960), Paris Blues (1961), A New Kind of Love (1963), Winning (1969), The Drowning Pool (1975), Harry & Son (1984) and Mr. and Mrs. Bridge (1990).
He lived away from Hollywood in Connecticut and was devoted to his wife and family. When asked about infidelity, he quipped:
"Why go out for hamburger when you have steak at home?"
Although he he had been nominated for Oscars he didn't actually win Best Actor until the mid-80s  when he reprised his role of "Fast" Eddie Felson in The Color of Money (1986) which was directed by Martin Scorsese.
His last film role on screen was as an Irish mob boss in Road to Perdition (2002), which he starred in alongside Tom Hanks, but his final work in a movie was as the voice of Doc Hudson in the Pixar animation hit Cars (2006).
Outside of his film career, Newman had a passion for motorsports which he discovered while training for and filming the 1969 film Winning.
Here he is discussing his racing on a David Letterman appearence in 2007:
He won several national championships in Sports Car Club of America road racing and his race teams won several championships in open wheel Indy Car racing.
Politically liberal, he campaigned for various issues and politicians down the years.
This 1981 debate with the conservative Charlton Heston about a freeze on nuclear weapons showed his political side:
A noted philanthropist, he raised millions of dollars for charity through his food company Newman's Own.
Best known for their salad dressings, Newman donated all profits and royalties to charity and – as of 2007 – it has made over US$220 million for good causes.
This video shows him talking about his charity work:
Back in June of this year it was widely reported that Newman had been diagnosed with lung cancer and was receiving treatment.
In August, Newman had reportedly finished chemotherapy and told his family that he wished to die at home in Westport, Connecticut.
He passed away yesterday and is survived by Woodward, along with his five daughters and two grandchildren.
> Paul Newman at the IMDb
> Newman's Own website
> BBC News report his death