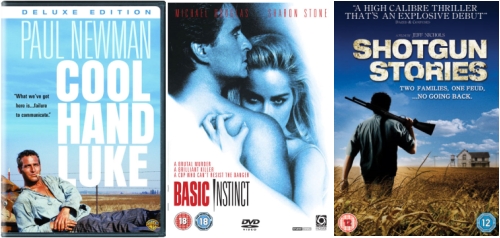 DVD PICKS
Cool Hand Luke (Warner Home Video): One of Paul Newman's most iconic roles was as the lead character in this 1967 prison drama, directed by Stuart Rosenberg. He plays Lucas 'Luke' Jackson, a prisoner in a Southern chain gang, who stands up to authority by repeatedly escaping. In the process he becomes a hero to his fellow inmates but also attracts harsher punishments by the sadistic guards. This new special edition from Warner Bros is newly remastered and contains some new featurettes, including: 'The Making of Cool Hand Luke'; a profile of Donn Pearce – the novelist, co-screenwriter and real life inspiration for Luke – and an audio commentary by Paul Newman's biographer Eric Lax. [Cert 15]
Basic Instinct (Optimum): This erotic thriller about a San Francisco cop (Michael Douglas) who falls for the chief suspect (Sharon Stone) in a murder case caused considerable outcry when it got released back in 1992. It was probably the most sexually explicit mainstream film up to that point and also provoked protests from the gay community during the actual filming, due to the perceived depiction of certain characters. Revisiting it now, it looks a little dated but there is still something trashily enjoyable about it – even if it remains less interesting than some of director Paul Verhoeven's other films. This DVD re-release contains a decent behind the scenes featurette plus an interesting audio commentary from Camille Paglia, who is a huge fan of the film.
Shotgun Stories (Vertigo Films): A highly impressive US indie about the conflict that breaks out between two sets of half-brothers in rural Arkansas after the death of their father. It has a brooding atmosphere of tension and violence that is expertly teased out by writer and director Jeff Nichols and it also contains a raft of fine acting from the likes of Douglas Ligon, Glenda Pannell and Barlow Jacobs with Michael Shannon especially fine in a key role. David Gordon Green served as a producer and it bears some stylistic similarities to his early work, notably George Washington and Undertow.
[ad]
ALSO OUT
Dante 01 (Momentum): A futuristic sci-fi horror with Lambert Wilson playing the sole survivor of an alien encounter who is charged with the murder of his entire crew and sentenced to a life of medical trials onboard Dante 01 – a psychiatric space prison.
Deceit (Optimum): A TV movie about a man (Matt Long) returns to his hometown after his father's death and soon enters into an affair with the wife (Emmanuelle Chriqui) of his old best friend (Luke Mably).
Doc (Optimum): The 1971 film version of the western heroes, Doc Holliday (Stacy Keach) and Wyatt Eart (Harris Yulin), set during the 1880s.
Doctor Who: Four to Doomsday (2 Entertain): Although this was the 2nd episode to be broadcast starring Peter Davison as the Doctor, it was the first to be recorded with him in the role. It is a four parter by Terence Dudley which sees the time lord and his companions Nyssa, Tegan and Adric (Sarah Sutton, Janet Fielding and Matthew Waterhouse) battling the Urbankans whose leader Monarch (Stratford Johns) believes he is the divine creator of the entire universe.
ER – Season 12 (Warner): The 12th season of the popular medical series sees plotlines involving a severe flooding of diverse patients, a baby involved in a suspicious car crash with her mother, a heart-attack victim visited by his sex-therapist and a comatose woman who suddenly awakes
Forgetting Sarah Marshall (Universal): The latest comedy from the team behind 'Knocked Up' and 'The 40 Year Old Virgin' follows a struggling musician (Jason Segel) who is dumped by his long-term girlfriend, TV star Sarah Marshall (Kristen Bell). When he goes to Hawaii to escape the torment he finds that Sarah is at the exact same resort with her new boyfriend, the wildly successful rock star Aldous Snow (Russell Brand).
Foyle's War: The Complete Series 1-5 (Acorn Media): Created by scriptwriter and novelist Anthony Horowitz, this mammoth 19-disc set features every investigation ever undertaken by Chief Superintendent Christopher Foyle in one collection.
Full of It (Optimum): A comedy a young boy at a new school is forced to live out the lies he told to become popular.
Ghost In The Shell: SAC Trilogy Box Set (Manga): A four-disc set which brings together the Ghost in the Shell: Stand Alone Complex OVAs – 'The Laughing Man' and 'Individual Eleven' alongside the double-disc edition of the third "Ghost in the Shell" feature film, 'Solid State Society'.
Grey's Anatomy – Season 3 (Disney): The third season of the hit medical drama based in Seattle, starring Ellen Pompeo (Meredith Grey), Patrick Dempsey (Derek Shepherd), Katherine Heigl (Izzie Stevens), Sandra Oh (Cristina Yang), T.R. Knight (George O'Malley) and Isaiah Washington (Preston Burke).
Legend of the Lost (Optimum): Adventure film with Rossano Brazzi as a man who arrives in Timbuctoo in search of a guide to help him cross the Sahara in search of a lost city. John Wayne plays his guide but the two clash when when they come across a slave girl named Dita (Sophia Loren).
Man of the West (Optimum): Gary Cooper plays a former outlaw now gone straight, who makes the acquaintance of card shark (Arthur O'Connell) and shapely dance-hall singer (Julie London) whilst travelling on a train with $1600 in his possession to find a new schoolteacher for his pioneer town. When the train is held up by his Uncle Tobin (Lee J Cobb) and other members of his former gang, the three are taken hostage and left behind when the trains resumes it's journey.
Outpost (Sony): Set in war-torn Eastern Europe, a band of mercenaries undertake a dangerous mission that leads them to a disused military bunker, where they discover a terrifying secret that has laid buried for half a century.
Roger Corman: The Collection (Optimum): Six Corman films (with four making their UK DVD premiere) are included in this set. They are: Five Guns West, Gunslinger, Haunted Palace, Premature Burial, Masque of the Red Death and Wild Angels.
Smart People (Icon): Directed by Noam Murro and scripted by novelist Mark Poirier, this comedy about a dysfunctional family stars Dennis Quaid, Ellen Page, Thomas Haden Church and Sarah Jessica Parker.
Soldier Blue (Optimum): A controversial western which follows the adventures of Honus (Peter Strauss) and Cresta (Candice Bergen), the only remaining survivors of a Cheyenne Indian attack, as they journey across the unforgiving wilderness of the old west in search of refuge.
Terror in a Texas Town (Optimum): When a local businessman (Sebastian Cabot) ruthlessly kills a local landowner, the victim's son (Sterling Hayden) heads out to avenge the killing, armed only with a harpoon.
The Air I Breathe (Pathe): Directed by Jieho Lee and starring Forest Whitaker, Andy Garcia, Kevin Bacon, Julie Delpy, Brendan Fraser and Sarah Michelle Gellar, this film centres on the ancient Chinese proverb of Happiness, Pleasure, Sorrow and Love, and sees the lives of four previously unconnected individuals weaved together by a crime boss (Andy Garcia).
The Barbara Taylor Bradford Collection (Acorn Media): A six-disc set collects together five film adaptations of the successful novelist's best-loved books, Voice of the Heart, Act of Will, To Be The Best, Hold the Dream and her first ever novel, A Woman of Substance.
The Day of the Outlaw (Optimum): Burl Ives stars as the head of a gang who ride in to a Wyoming town where he meets two local ranchers (Robert Ryan and Alan Marshal) locked in a dispute supposedly about territory, but in reality more about a woman (Tina Louise).
The Flying Doctors – Series 1: Volume 1 (Freemantle): Set in the Australian Outback this medical drama series follows the trials of The Royal Flying Doctor Service – the pilots and nurses covering thousands of miles of rough country.
The Spikes Gang (Optimum): Three Texan farm boys run away in search of adventure and decide to emulate their hero Harry Spikes (Lee Marvin), a bank robber. Harry boasts to them of his exploits but it soon becomes apparent that Harry has had more bad days than good and his life seems doomed to failure. The question is, will he drag the boys down with him? Also stars a young Ron Howard.
Three and Out (Worldwide Bonus Entertainment PLC): British comedy starring Mackenzie Crook, Colm Meaney and Gemma Arterton, that provoked protests from tube drivers earlier this year.
Tin Man (Brightspark): DVD release of director Nick Willing's TV series that reimagined The Wizard of Oz, starring Zooey Deschanel, Richard Dreyfuss, Alan Cumming, Neal McDonough, Kathleen Robertson, Raoul Trujillo and Anna Galvin.
XXY (Peccadillo Pictures): The debut of Argentinean writer/director Lucia Puenzo is this drama set in Uruguay about an intersex child, Alex (Ines Efron) who was born with physical characteristics that don't fit the definition of male or female.
Young Billy Young (Optimum): Robert Mitchum stars in this Western as a man haunted by the memory of his dead son, murdered in Dodge City by a man named Frank Boone (John Anderson), for whom he has been searching ever since. Also starring Angie Dickinson and David Carradine.
[ad]
If you have any questions about this week's DVD releases or any upcoming titles then just email me or leave a comment below.
> Buy Cool Hand Luke, Basic Instinct or Shotgun Stories on DVD at Amazon UK
> Browse more DVD Releases at Amazon UK and Play
> Check the latest DVD prices at DVD Price Check
> Take a look at the current UK cinema releases (W/C Friday 12th September)