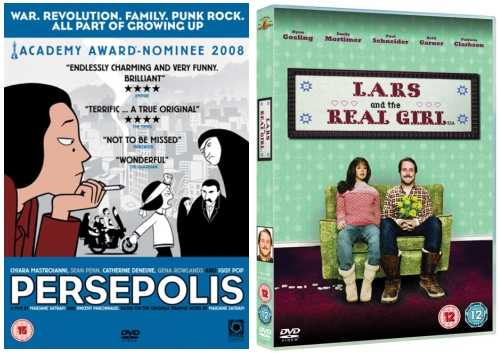 DVD PICKS
Persepolis (Optimum): Writer and director Marjane Satrapi (along with co-director Vincent Paronnaud) adapted her own graphic novel about growing up during the Iranian Revolution in 1979. Using a striking animated style, it explores her journey living in a theocratic society until she emigrates at the age of 21. A moving and insightful film, filled with healthy doses of humour, it deservedly won the Jury Prize at Cannes last year and was nominated for Best Animated Film at the Oscars.
Lars and the Real Girl (MGM/Fox): Although the premise of this film might sound odd – a Midwestern loner called Lars buys a sex doll only to treat it as a real person – this actually feels more like an updated Frank Capra movie, with Ryan Gosling playing the introverted title character. There aren't many laugh out loud moments but there is an amiable charm to the film, which is helped by some fine performances from Gosling, Paul Schneider, Emily Mortimer and Patricia Clarkson. Directed by Craig Gillespie from Nancy Oliver's script, which was nominated for an Oscar.
OTHER RELEASES
A Town Called Eureka – Season 2 (Universal Playback): Second season of the fantasy series involving a sheriff (Colin Ferguson) in the small town of Eureka, a place where scientific experiments cause innovation or chaos.
Breathing Room (DNC Entertainment): A psychological thriller involving a woman (Alisa Marshall) who finds herself thrown into a desolate room with thirteen strangers before discovering she is the last contestant in a deadly game.
Chuck – Season 1 (Warner): First season of the NBC show about a computer geek who receives the world's greatest spy secrets after opening an e-mail from an old college friend who is now a rogue CIA agent.
Diamond Dogs (Sony): Dolph Lundgren – currently stuck in straight-to-DVD hell – stars in this action film about an ex-Special Forces officer hired to lead a band of treasure hunters in order to find a priceless Buddhist artifact.
Get Smart – Season 1 (HBO): Released to coincide with the cinema release of the movie remake starring Steve Carell and Anne Hathaway, the original Get Smart was a 1960s comedy series revolving around the bumbling Washington spy Maxwell Smart (Don Adams). Created by Mel Brooks and Buck Henry it also starred Barbara Feldon as Agent 99, who often saves the day.
Gossip Girl – Season 1 (Warner): From the creators of The O.C., comes this show is based on the book series by Cecily von Ziegesar, follwing the lives of privileged teenagers in Manhattan. The first season starts when students learn from the 'Gossip Girl' blog that Serena van der Woodsen (Blake Lively), a formerly notorious party girl, is back in New York.
La Antena (Dogwoof Pictures): The second feature film from Argentinean director Esteban Sapir is a silent black-and-white tale about a world dominated by trashy TV, where even the ability to talk has been snatched from people.
Leatherheads (Universal): George Clooney directs and stars in this 1930s-style screwball comedy about an American Football team struggling to stay afloat in the early days of the sport. Renee Zellweger and John Krasinski co-star.
Meet the Spartans (Fox): Another hastily made spoof from the creative talents that gave us Date Movie and Epic Movie.
Sports Movie (aka The Comebacks) (Fox): A sports movie spoof about an out-of-luck coach (David Koechner) trying to lead his team of fumbling footballers to victory before his long-suffering wife (Melora Hardin) leaves him.
Stargate: Continuum (Fox): Yet another Stargate spin off in which members of SG-1 find themselves returning to a world where history has been dramatically altered.
Stop-Loss (Paramount): After several years in development hell, director Kimberley Pierce (who made Boys Don't Cry in 1999) returned with this tale of a decorated Iraq war hero (Ryan Phillippe) who returns to Texas, only to find a clause in his army contract will force him back to duty in the Middle East.
The Neverending Story (Warner): A re-release for Wolfgang Petersen's 1984 fantasy adventure based on the German novel of the same name by Michael Ende
The Sword in the Stone – 45th Anniversary Special Edition (Disney): The animated Disney film based on the novel of the same name gets a re-release .
Unearthed (Icon): The story of an unknown creature stalking an archaeological dig in the middle of a desolate New Mexico town and the inhabitants who must fight it out.
Virgin Territory (Momentum): A straight-to-DVD release for this very loose adaptation of Giovanni Boccaccio's The Decameron with Hayden Christensen, Mischa Barton and Tim Roth.
If you have any questions about this week's DVD releases or any upcoming titles then just email me
(To buy any of the DVDs above just click on the title and you will be redirected to our Amazon affiliate)
> Browse more DVD Releases at Amazon UK and Play
>  Check the latest DVD prices at DVD Price Check
> Take a look at the current UK cinema releases (W/C Friday 15th August)