Here are the UK DVD releases for this week, along with our picks.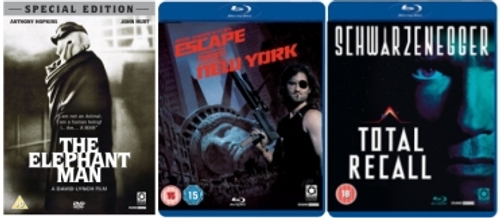 DVD PICKS
The Elephant Man – Special Edition (Optimum): The DVD highlight of the week is this special edition re-release of David Lynch's superb 1980 period drama about the life of Joseph Merrick (he is named John on the film). Based on the real story of a man so disfigured he was dubbed 'the Elephant Man', it explores how he was taken in by a doctor and his struggle to be recognised as a dignified human being in Victorian London. [Read our full review here]
Escape From New York (Optimum): John Carpenter's smart, dystopian thriller from 1981 gets re-released on regular DVD and Blu-ray. It imagines a futuristic New York where crime has spiralled out of control to the point where Manhattan has been turned into a maximum security prison. When Air Force One crashes over the island, the prison governor (Lee Van Cleef) recruits a notorious criminal named "Snake" Plissken (Kurt Russell) to go in and rescue the leader of the free world. The major snag is that he has less than 24 hours to complete his mission and must survive in a completely lawless and hostile environment. [Read our full review here]
Total Recall (Optimum): Optimum have released a selection of Arnold Schwarzenegger action movies from the 80s and 90s on regular DVD and Blu-ray. The best of these is this 1990 sci-fi adaptation of Philip K Dick's story 'We Can Remember It For You Wholesale' directed by Paul Verhoeven, which stars the Teutonic Austrian as a blue collar worker who dreams of Mars. When he visits a company offering him a virtual holiday by implanting memories, it inadvertently unlocks his 'real' past as a secret agent and all hell breaks loose as he escapes to the red planet for real. [Read our full review here]
ALSO OUT
Aces: Iron Eagle III (Optimum): The third part of the series of films about a young fighter pilot that came out in the same year as the more successful of Top Gun.
Cliffhanger (Optimum): A Blu-Ray release for this surprisingly satisfying 1993 action film with Slyvester Stallone battling it out with a bunch of crooks on a mountain.
First Blood (Optimum): A Blu-Ray release for the first of the Rambo series – probably the best of the lot as it has a darker and more serious vibe, exploring a drifting Vietnam veteran (Sylvester Stallone) who is hunted by the police in Washington State.
Rambo: First Blood Part II (Optimum): A Blu-ray release for the 2nd of the Rambo films, which despite it's confusing title was the most successful. A balls-to-the-wall 80s action film with Rambo (Sylvester Stallone) going back to Asia to get POWs missing in action from Vietnam. Efficiently done, even if the climactic speech is unintentionally hilarious.
Rambo III (Optimum): The 3rd Rambo film also gets the Blu-ray treatment and this is perhaps the most fascinating as the plot – set in 1988 – involves Rambo allying with freedom fighters in Afghanistan against the Russian invaders. These allies would of course go on to destroy the World Trade Centre spark global warfare, but as Stallone told me earlier this year 'who knew?'.
Flash Gordon (Optimum): Mike Hodges' 1980 film version of the famous comic book character gets a DVD release and although its just too campy and dated it does have its moments notably Brian Blessed's immortal cry of 'Gordon's Alive!'.
Hell's Ground (TLA Releasing): A release for this 'Danger After Dark' title which is notable for being Pakistan's "first-ever splatter flick" about zombies attacking teenagers in a remote location.
How She Move (Paramount): The current craze for dance themed movies continues with the release of this film about a young woman's battle to escape her crime-filled neighbourhood through step-dancing.
Iron Eagle II (Optimum): The 1989 sequel to Iron Eagle, which saw a Perestroika-style team-up between US and Soviet forces in order to combat an unnamed Middle Eastern country.
Lupin the Third: Secret of Mamo (Manga): A release for this Manga film – the first of five animated features based on the popular Lupin the Third manga character created by 'Monkey Punch' (aka manga writer and illustrator Kazuhiko Kato).
Raw Deal (Optimum): A pedestrian Schwarzenegger vehicle from 1986 in which he plays a cop taking on the mob. The highlights were probably the tag line "NOBODY gives him a raw deal…." and the scene where he shoots someone and then pours sweets over them – indications that this probably wasn't Arnold's finest hour.
Red Heat (Optimum): One indication that the Cold War was coming to an end was that Russians started becoming allies in movies rather than villains. This 1988 action film saw Arnold Schwarzenegger play a Russian cop who comes to Chicago to hunt down a vicious fellow countryman (Ed O'Ross). James Belushi starred as the mismatched cop he must team up with, whilst Walter Hill directed.
Red Sonja (Optimum): A re-release for for this sword and sorcery action film in which Arnold Schwarzenegger took on more of a supporting role (despite the then recent success of the Conan films) and Bridgitte Nielsen took centre stage as a mystical warrior. Rose McGowan will soon star in a remake.
Space Adventure Cobra (Manga): Based on the comic books by Buichi Terasawa, this feature has been described as 'an animated space opera packed with unfeasibly pneumatic heroines, psychedelic drug-inspired imagery, cracking cosmic combat sequences, a Darth Vader-like villain and a retro-styled, wise-cracking hero for whom saving the universe is about as taxing as a walk in the park'. Well that's alright then.
Stargate- Special Edition (Optimum): The 1994 action film from director Roland Emmerich gets a regular DVD and Blu-ray re-release. Despite spawning a seemingly never-ending TV spin off, the action and effects hold up reasonably well in this tale of marines and a scientist finding a portal to another world.
The Arnold Schwarzenegger Collection (Optimum): A DVD box set of all the recent Schwarzenegger films re-released by Optimum in one handy package which includes: Total Recall, Raw Deal, Red Heat and Red Sonja.
The Fog (1979): A Blu-ray release for the John Carpenter original rather than the ropey 2005 remake. Be warned though that there are no extras on this disc, so only get it if you are dying to see it in HD.
Trouble in Mind (Nouveaux): A re-release for this 1985 neo-crime drama directed by Alan Rudolph and starring Kris Kristofferson, Keith Carradine, Lori Singer, Genevieve Bujold, Joe Morton and Divine.
Vantage Point (Sony): A regular DVD and Blu-ray release for this thriller about an assassination in Spain on the US president, seen from multiple perspectives. Directed by Pete Travis, it stars Dennis Quaid, Matthew Fox, Forest Whitaker, Sigourney Weaver, Édgar Ramírez and William Hurt.
If you have any questions about this week's DVD releases or any upcoming titles then just email me
(To buy any of the DVDs above just click on the title and you will be redirected to our Amazon affiliate)
> Browse more DVD Releases at Amazon UK and Play
> Check the latest DVD prices at DVD Price Check
> Take a look at the current UK cinema releases