Every Friday from now on I'm going to post a breakdown of what's being released in UK cinemas be it a big, small or medium sized release.
I've broken it down into national releases (e.g. films that play on multiplexes in most towns and cities) and limited releases (which basically means the big UK cities and other places with an arthouse cinema).
Hopefully you'll find it a helpful guide to what's on and – as ever – if you have any information or feedback just get in touch.
Plus, you can also check out our recent DVD release breakdown if you fancy staying in.
The UK cinema releases this week include: The Dark Knight, Baby Mama and Angus, Thongs And Perfect Snogging.
NATIONAL RELEASES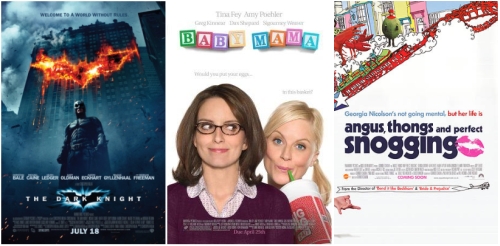 The Dark Knight (12A): The new Batman film arrives in the UK on a wave of hype, critical acclaim, record breaking box office numbers and news that Batman himself (or rather Christian Bale) has been questioned by police(!). Warner Bros' accountants must already be giddy, counting the $158m it took in the US last weekend – breaking the 3-day opening weekend record. It looks set to dominate UK cinemas this week and also opens in IMAX on the same day, with previews yesterday (Thursday).
Baby Mama (12A): The female orientated alternative to the Batman juggernaught is a comedy with Tina Fey as a career woman in Philadelphia who can't have children and has to recruit a surrogate mother (Amy Poehler) who has a very different outlook on life. Universal will hope that this will act as counter-programming to The Dark Knight but with Mamma Mia already taking up that slack, things might prove tough for this comedy.
Angus, Thongs And Perfect Snogging (12A): Based on Louise Rennison's novel Angus, Thongs and Full-Frontal Snogging, this is Paramount's attempt to offer an alternative to the caped crusader. This might have a better shot than Baby Mama as it is appealing to a younger demographic but it will be interesting to see how it shapes up to
LIMITED RELEASES

The following films are released in selected cinemas nationwide, which usually means a large city or a place with a decent arthouse cinema. Check local listings (like Google Movies) to see if any are near you.
Before The Rains (12A):A limited release in key cities for the second film from Indian director Santosh Sivan set during the twilight years of British colonial rule, about a tea plantation owner (Linus Roache) having an affiar with a young Indian servant (Nandita Das).
Buddha Collapsed Out Of Shame (PG) Slingshot Studios are releasing this Iranian film about the destruction by the Taliban of the gigantic statue of Buddha in 2001, as seen through the eyes of children. It is in a limited run at the ICA cinema in London before going out to selected cities from August (dates TBC).
Lou Reed's Berlin (12A): Artificial Eye give a release in selected cinemas for this concert film by Julian Schnabel of Lou Reed performing his acclaimed album Berlin in St. Ann's Warehouse in Brooklyn back in December 2006.
Money Hai To Honey Hai (Eros): A release in key cities for this Bollywood film about six different characters getting a text message informing them that they own a big company but must also repay it's debts.
Paris (15): Optimum give a release in key cities for this new film by Cédric Klapisch concerning a large group of people living in Paris. It stars Juliette Binoche, Romain Duris, François Cluzet, Maurice Bénichou and Karin Viard.
Quiet City & Dance Party: A double bill of low-budget short features from young American film-maker Aaron Katz that is showing at the ICA Cinema in London.
If you have any questions about this week's cinema releases or any upcoming titles then just email me or leave a comment below.
> Get local showtimes via Google Movies
> Find out about films showing near you at MyFilms
> See what's out on DVD this week