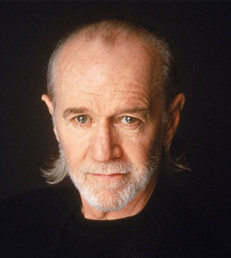 George Carlin, one of the true legends of comedy, has died at the age of 71.
The New York Times report:
George Carlin, the Grammy-Award winning standup comedian and actor who was hailed for his irreverent social commentary, poignant observations of the absurdities of everyday life and language, and groundbreaking routines like "Seven Words You Can Never Say on Television," died in Santa Monica, Calif., on Sunday, according to his publicist, Jeff Abraham. He was 71.

The cause of death was heart failure. Mr. Carlin, who had a history of heart problems, went into the hospital on Sunday afternoon after complaining of heart trouble.
Coming to late prominence in the late 60s he established himself as comic with a knack for black humor and observations on politics, language, and religion.
His groundbreaking "Seven Dirty Words" routine in 1978 broke new ground in comedy and defined acceptable free speech limits on broadcast media in the United States.
It led to the landmark 1978 case F.C.C. v. Pacifica Foundation at the U.S. Supreme Court which saw a narrow 5-4 decision by the justices which affirmed the government's right to regulate Carlin's act on the public airwaves.
In the 80s and 90s his routines were wonderfully perceptive assaults against what he saw as the flaws in modern-day society.
He hosted the first ever episode of NBC's long running comedy show Saturday Night Live in November 1975 and appeared in supporting roles in films like Bill & Ted's Excellent Adventure (1989), Prince of Tides (1991) and Dogma (1999).
In 2004 Comedy Central conducted a poll which ranked him as the second greatest stand-up comedian of all time, behind Richard Pryor.
His numerous specials for HBO down the years produced humour that was both wildly hilarious and brilliantly incisive.
A routine on religion from 1999 still stands as a classic:
He will be missed.
> Official Website
> Find out more about George Carlin at Wikipedia
> 2005 Interview with the AV Club looking back on his career
> New York Times report on his death
> George Carlin at the IMDb
> A list of Carlin albums at Wikipedia