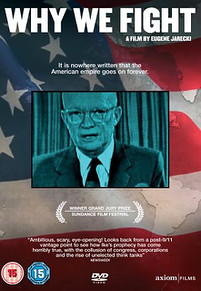 Why We Fight is a 2005 documentary that explores why the US has engaged in military conflicts since World War II.
Directed by Eugene Jarecki, it uses as its' starting point the speech President Eisenhower gave in 1961 warning about the dangers of a military-industrial complex.
Containing interviews with John McCain, Richard Perle, William Kristol and Gore Vidal it also explores the story of a Vietnam vet whose son died in the 9/11 attacks; a newly enlisted soldier and a former Vietnamese refugee who now develops weapons for the US military.
A fascinating and provocative look at the American war machine, it is well worth checking out if you didn't catch at cinemas or on TV.
Extras include:
Additional scenes
Extended character featurettes
Audience Q&A with filmmaker
Eugene Jarecki TV appearances on The Daily Show with Jon Stewart and Charlie Rose on PBS
Feature length commentary by director Eugene Jarecki and Colonel Lawrence Wilkerson
Theatrical trailer
It is released today in the UK by Axion Films
Watch Eisenhower's speech here:
> Buy the DVD from Amazon UK
> Check out reviews of the film at Metacritic
> Official site for Why We Fight