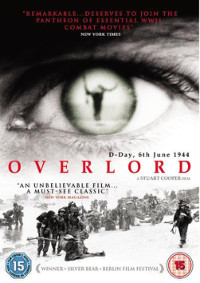 In 1975 director Stuart Cooper made Overlord – a drama about a soldier in the run up to the D-Day landings.
What makes the film unique is that it was filmed with the help of the Imperial War Museum and uses documentary footage from their vast archive, set against the central narrative.
Starring Brian Stirner, Davyd Harries, Nicholas Ball and Julie Neesam it is now being re-released on DVD after showing to great acclaim at the Telluride Film Festvial in 2006 and a short run at the ICA in London last month.
It was then that I spoke with Stuart Cooper about the film and you can listen to the interview here:
To download this as a podcast via iTunes just click the image below:
Overlord is out now on DVD from Metrodome
> Download this interview as an MP3 file
> Buy Overlord on DVD from Amazon UK
> An article by Stuart Cooper in The Guardian about the re-release of Overlord
> Roger Ebert reviews the film in 2006
> Various reviews of Overlord at Metacritic