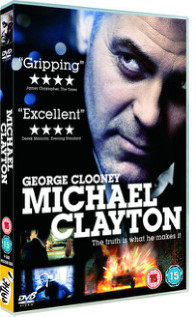 This week sees the release of Michael Clayton on DVD in the UK.
Although it got a lot of award nominations and critical praise, this brilliant legal thriller didn't quite do the box office business it deserved in the US or over here.
Despite the presence of A-lister George Clooney and some fantastic performances from superb supporting cast (including the likes of Tom Wilkinson, Tilda Swinton and Sydney Pollack) I think some people mistook it for some kind of John Grisham-style pot boiler.
In truth, it is a glorious throwback to 70s style conspiracy thrillers like The Parallax View and All the President's Men, as writer-director Tony Gilroy explores the dark side of corporate America and the moral dilemas of those trapped in that world.
Clooney plays the title character, a fixer at a prestigious New York law firm who is facing a personal and professional crisis.
When one of his bosses (Tom Wilkinson) has an embarrasing breakdown in the middle of a huge class-action lawsuit involving a giant corporation, Michael is sent to sort things out. But he soon discovers that things are not what they seem.
Check out the trailer here:
Also, this interview Clooney did with Charlie Rose is interesting:
[googlevideo]http://video.google.co.uk/videoplay?docid=2968880446883512521[/googlevideo]
> Buy Michael Clayton on DVD from Amazon UK
> IMDb entry for Michael Clayton
> More reviews of Michael Clayton at Metacritic