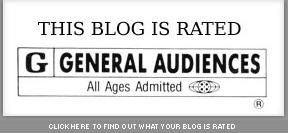 If you want to see what US rating your website is then try out this neat little site from Mingle 2.
It comes up with a virtual MPAA rating for your blog, MySpace or Facebook profile.
For some reason mine is a G Rating (which means all ages are admitted).
Maybe I should increase the swearing, sex and violence? 😉
> See what rating your blog is at Mingle 2
> Find out more about US ratings at Wikipedia