YouTube have added what could be a very useful application – the ability to edit your videos online.
It is called YouTube Remixer and the official blurb says:
Sometimes, instant gratification video is just the thing you need. If you've ever uploaded from your cell phone, wished for an easy way to add titles and transitions, or just wanted to remix your own videos, Remixer is a great place to play.

It lets you assemble your new video in an easy drag-and-drop timeline, and then publish it right back to YouTube. Your original videos will stay exactly the same.
TechCrunch have their doubts:
This isn't an offering that is going to be embraced by serious content creators but it is ideal for casual YouTube uploaders. The interface is fairly simple if perhaps a little bit dull and boring.

Creating a one stop shop for all things video at YouTube is a natural progression path that gives prosumers another reason to spend more time on the site; it's just that it's grey, uninspiring and so very not Google.
But this could be the start of something very interesting at YouTube.
Who knows, may be the Adobe powered editor could become a very popular online application. If it is easy to use then I can only see it growing and taking off in interesting ways.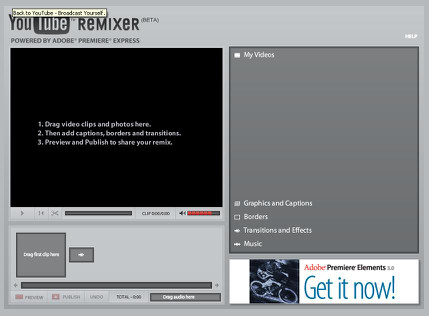 Plus, the key thing here is that people are more likely to get hooked in to the site and even develop their editing skills if it takes off.
Another smart move from the the GooTubers.
> Official YouTube Remix section of the site
> Check out the lengthy and interesting Wikipedia entry on YouTube