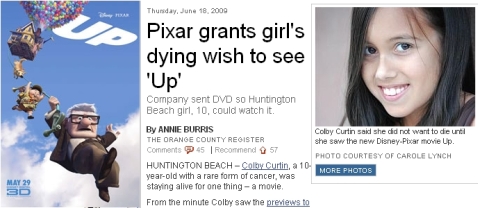 Pixar recently arranged a home screening of their latest film Up for a 10 year old girl dying of a terminal illness.
Back in 2005, Colby Curtin was diagnosed with vascular cancer and her condition had worsened in recent months to the point that she only had days to live.
After seeing a preview at a cinema back in April, she was keen to see Up, which is about an old man who flies to South America in a floating house suspended from helium balloons.
However, by early June her condition had deteriorated to such an extent that she couldn't leave the house.
Her mother Lisa feared that she would never get to see the film and it was at this point that a family friend named Terrell Orum started cold calling Pixar and Disney to see if anyone could help them.
After eventually getting through to Pixar, the company agreed to send an employee to Colby's house the next day with a special DVD of 'Up'.
When he arrived, the group gathered around for a special screening, although because of Colby's condition her mother had to describe the events on the screen.
The employee left after the film had finished, taking the DVD with him.
Colby passed away later that evening at 9:20 p.m, just seven hours after seeing the film.
The Orange County Register reported on how thankful Colby's mother was about the special screening:
With her daughter's vigil planned for Friday, Lisa Curtin reflected about how grateful she is that Pixar – and "Up" – were a part of her only child's last day.

"When I watched it, I had really no idea about the content of the theme of the movie," said Curtin, 46. "I just know that word 'Up' and all of the balloons and I swear to you, for me it meant that (Colby) was going to go up. Up to heaven."

Pixar officials declined to comment on the story or name the employees involved.
A remarkable story, which shows what a class act Pixar are, on a personal and professional level.
> Read the full story at the Orange County Register
> Find out more about Pixar and Up at Wikipedia