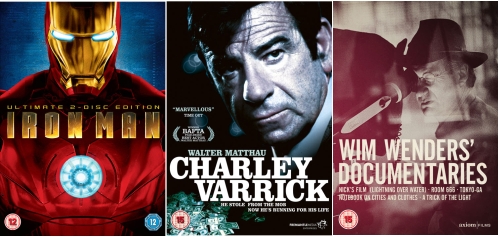 DVD PICKS
Iron Man (Paramount): The first summer blockbuster of this year saw another Marvel comic book character getting the big screen treatment. Robert Downey Jnr plays Tony Stark, a billionaire industrialist and arms dealer who changes his war-profiteering ways after being kidnapped in Afghanistan. After building a robotic suit in order to escape he decides to protect the world as Iron Man. Directed by Jon Favreau and co-starring Terence Howard and Gwyneth Paltrow it impressed a lot of critics and audiences with its combination of special effects, witty dialogue and fine performances.
The 2 Disc edition is the one to go for as it comes with a lot of decent extras, which include:
I Am Iron Man – seven-part in-depth look at the making of the film.
The Invincible Iron Man – extensive explorations of the origins of the character in a six-part featurette.
Wired: The Visual Effects of Iron Man.
The Actor's Process (scene rehearsal with cast).
Robert Downey Jr. Screen Test.
Still Galleries
This is the first feature film Marvel funded themselves (Paramount were just the distributor) and although The Dark Knight stole a bit of its thunder, this was one of the best comic book adaptations for quite some time. After all his off-screen problems Downey Jnr proved he could shine as a leading man in this kind of film and Favreau got the blend of character, action and humour just right. Another aspect worth praising is the terrific SFX work ILM and the late Stan Winston achieved in creating the Iron Man suit. [Cert 12]
Charley Varrick (Freemantle): Freemantle Home Entertainment have two batches of films arriving on UK Region 2 DVD this month. Although most of them have been out here before on various labels, a few others are making their UK DVD debuts. This is a 1973 crime drama directed by Don Siegel and starring Walter Matthau in the title role. It came two years after Siegel's Dirty Harry and also stars two actors from that film: Andrew Robinson and John Vernon. Based on the novel 'The Looters' by John H. Reese it is an enjoyable slice of 70s crime movie.   
Wim Wenders' Documentaries (Axiom Films): This five-disc set brings together five of the director's documentaries on the nature of film and filming that cover three decades of his career. They include:
Nick's Film (Lightning Over Water)

(1979): 

A moving portrait of Hollywood maverick Nicholas Ray. Special features include a Feature-length commentary with Wim Wenders and a 'Nicholas Ray: Especially For Pierre' lecture (38 mins).

Room 666

(1982): 

Fifteen directors, including Jean-Luc Godard, Werner Herzog and Steven Spielberg, discuss the future of cinema in Room 666 of a hotel during the 1982 Cannes Film Festival.

Tokyo-Ga

(1985): 

The legacy of Japanese master filmmaker Yasujiro Ozu is explored during a journey through contemporary Tokyo. Special features include some deleted scenes. 

Notebook on Cities and Clothes

(1989): 

The relationship between fashion and film is examined in an intimate portrait of Japanese designer Yohji Yamamoto. Special features include: Feature-length commentary with Wim Wenders, Deleted scenes with commentary, 'Yamamoto: 12 Years Later' featurette. 

A Trick of Light (1996): The story of the Skladanowsky brothers, pioneers of early cinema, celebrates a century of cinema. Special features include: Feature-length commentary with Wim Wenders, Deleted scenes. 
Also included in the 5-disc box-set is a 24-page booklet containing essays on each of the films, plus an 8-page booklet containing an exclusive interview with Wim Wenders discussing his documentaries.
[ad]
ALSO OUT
Another Cinderella Story (Warner)
Dead Space Downfall (Anchor Bay/Manga)
Dirty Sexy Money – Season 1 (Disney)
Fighters / Real Money (2 disc set) (Second Run)
Flood (2 Disc Extended Edition) (Lionsgate)
Fonejacker – Series 2 (4DVD)
Gray Lady Down (Fremantle)
Hell In The Pacific (Fremantle)
House – Series 4 (Universal Playback)
Junior Bonner (Fremantle)
Land Of Plenty (Axiom Films)
Leo (Universal)
Lou Reed's Berlin (Artificial Eye)
Mad Money (Lionsgate)
My Name Is Earl – Series 3 (Fox)
Never Apologize (Drakes Avenue Pictures)
One Who Set Forth – Wim Wenders' Early Years (Axiom Films)
The Red Desert (BFI)
Rick And Steve – The Happiest Gay Couple In All The World (4DVD)
Seagal Six Pack Collection (Today You Die/Black Dawn/Flight of Fury/Shadow Man/Attack Force/Pistol Whipped) (Sony)
Sleeping Beauty (50th Anniversary Deluxe Edition) – 2 Disc DVD (Disney)
Snipes Six Pack Collection (7 Seconds/Unstoppable/The Marksman/The Contractor/The Detonator/Hard Luck) (Sony)
Starfish Hotel (4Digital Asia)
Strait Jacket (Manga)
Strip Nude For Your Killer (Shameless)
Van Damme Six Pack Collection (Derailed/The Order/In Hell/Second In Command/Wave Of Death/The Shepherd) (Sony)
XXXholic – Series 1 Part 1 (Manga)
[ad]
If you have any questions about this week's DVD releases or any upcoming titles then just email me or leave a comment below.
> Buy Iron Man, Charley Varrick or Wim Wenders' Documentaries on DVD at Amazon UK
> Browse more DVD Releases at Amazon UK and Play
> Check the latest DVD prices at DVD Price Check
> Take a look at the current UK cinema releases (W/C Friday 24th October)