One of the events at the festival that helps give filmmakers a foot on the industry ladder is the TCM Classic Shorts competition.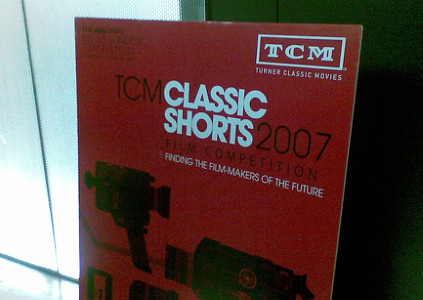 Throughout the year short films are submitted and five then get shortlisted for the prestigious prize sponsored by TCM.
Last night I went along to the NFT1 to see the five finalists and they were:
A Bout De Truffe (Directed and produced by Tom Tagholm): A highly amusing and inventive comedy done in French about a truffle hunter and his pig.
Always Crashing in the Same Car (Directed by Duncan Wellaway and produced by Zoe Ball): A black comedy set over one night about two very influential men who hate each other.
Perfect to Begin (Directed by Richard Lawson and produced by Tina Gharavi): A drama about a couple who go on a holiday that soon descends into a mess.
Cocoon (Directed by Hana Tsutsumi and produced by Daniel Silber): A drama about a young child trapped in an apartment with body of his dead mother and the post man who delivers letters to the building.
Signals (Directed by Anders Habenicht and produced by Joel Burman): A dark tale of a girl attacked and raped in a Swedish park and another girl who finds a mobile near the crime scene.
The Amazing Trousers (Directed by William F Clark and produced by Andy Kemble and Jason Delahunty): A comic tale set in Edwardian England about a pair of red trousers that transform the life of a man who wears them.
All of the films were of a good standard but the three stand outs for me were: A Bout De Truffe, which was highly inventive, well acted and very funny; Signals, which was disturbing but had an innovative narrative twist; and Always Crashing in the Same Car, which was notable for its widescreen lensing and the reuniting of Richard E Grant and Paul McGann for the first time since Withnail and I.
The panel of judges (which included Simon Pegg, Lasse Hallstrom, Kevin MacDonald, Cillian Murphy, Stephen Woolley, Jason Solomons and Wendy Ide) sort of agreed with me as they went for:
1st Prize: A Bout De Truffe
2nd Prize: Always Crashing in the Same Car
3rd Prize: Perfect to Begin
If you want to check out the short films you can view them at the TCM Classic Shorts website.
But if any of the organisers are reading this, how about putting the entries online next year and taking a public vote as well as the one from the selected judges?
UPDATE: Andrew Collins was the MC for the evening and he has written about the event on his blog.
> Watch all the films online at the TCM Shorts website
> Links to short film sites at The Guardian