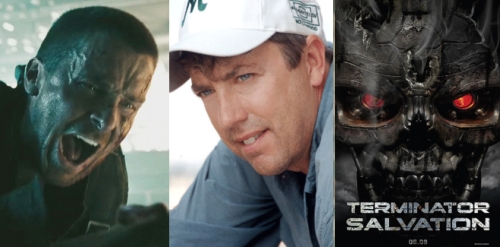 Audio has surfaced on the web of Christian Bale going absolutely ballistic on the set of Terminator Salvation last summer.
Have a listen to the full NSFW rant here:
[audio:http://filmdetail.receptionmedia.com/christian_bale_terminator_salvation_set_rant.mp3]
It appears from the audio, first posted on TMZ on Monday, that Bale (who plays John Connor in the film) got angry after cinematographer Shane Hurlbut walked within his frame of view during filming for a second time.
During the heated exchange, which reportedly was recorded in July 2008, days before Bale began promoting The Dark Knight in London (where he was arrested on allegation of assault), the actor can clearly be heard ranting angrily toward Hurlbut.
TMZ report:
It happened on the set after a director of photography accidentally ruined a scene by walking onto the set.

Bale lost it, screaming, yelling and threatening to quit if the bosses didn't fire the dude.

Film execs sent the tape to the insurance company that insured the film in case Bale bailed.
According to a source close to the film who spoke to Access Hollywood, despite the incident, Terminator Salvation wrapped up and no one was fired.
The actor and Hurlbut have also reportedly made up.
The film's assistant director Bruce Franklin – who can be heard in the tape – told E-Online:
'If you are working in a very intense scene and someone takes you out of your groove…

It was the most emotional scene in the movie. And for him to get stopped in the middle of it – he is very intensely involved in his character.

'He didn't walk around like that all day long. It was just a moment and it passed.

'This was my second movie with Christian, and it has always been a good experience with him. He is so dedicated to the craft.

'I think someone is begging to make some noise [controversy] about this, but I don't think it's fair. The art of acting is not paint by numbers, it's an art form.'
However, once something like this gets out people can have all kinds of fun with it.
This dance remix by Revolucian is very impressive:
There is also a 'Christian Bale And I Are Done Profesionally' T-Shirt at Despair.com, a soundboard created by UGO and even a bizarre photo montage comparing him to Kermit the Frog has resurfaced.
UPDATED 06/02/09
The Bale audio made some waves on BBC Breakfast this week when someone forget to edit out the F-word:
And the actor also rang the LA radio station KROQ to apologise and explain what happened.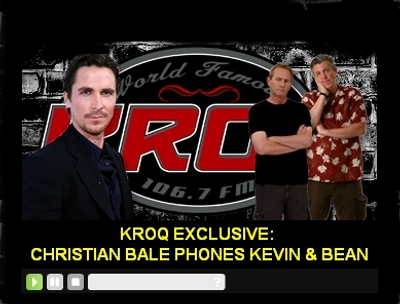 Listen to the call here:
[audio:http://filmdetail.receptionmedia.com/Christian_Bale_Apology_Call_to_KROQ.mp3]
If anything, this whole affair has provided a lot of free publicity for the film.
> Download the full rant as an MP3 file
> Christian Bale at the IMDb
> Find out more about Terminator Salvation at Wikipedia