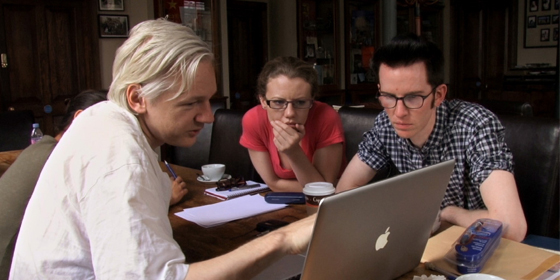 We Steal Secrets: The Story of Wikileaks is the new documentary from director Alex Gibney (Taxi to the Darkside, Mea Maxima Culpa: Silence in the House of God) and explores the organization started in 2006 by Julian Assange.
It then charts the various people involved in the leaking of secret information, including hackers, journalists and activists who during 2009-2010, leaked information about the the Icelandic financial collapse, Swiss banks evading tax and toxic-waste dumping.
It then focuses on the case of Bradley Manning, the army private who leaked an enormous amount of classified information about the Afghan and Iraq wars, as well as over 250,000 diplomatic cables.
Since the film premiered at Sundance in January, Manning has pleaded guilty and could face the death penalty, some Wikileaks supporters have taken issue with the film and Assange remains holed up in diplomatic limbo at the Ecuadorian embassy in London.
Added to this, another leak of seismic proportions rocked the US government in early June when a new whistle-blower named Edward Snowden released details of PRISM, a top-secret global spying program of unprecedented scope and size.
At the time of writing, Snowden is in diplomatic limbo at Moscow airport, but although some of the events and issues raised in the film are ongoing, there was much to chew on when I spoke with Gibney at the end of June.
Have a listen to the interview here:
You can also download the podcast via iTunes or get the MP3 directly.
We Steal Secrets: The Story of Wikileaks opens in the UK on Friday 12th July
> Alex Gibney on Twitter and the IMDb
> Get local showtimes via Google Movies
> Find out more about Wikileaks and Edward Snowden at Wikipedia