NATIONAL RELEASES
Dinner For Schmucks (Paramount): A US remake of the French comedy The Dinner Game (Le Dîner de cons), about an ambitious executive (Paul Rudd) who accepts an invitation to a dinner party where successful professionals make fun of an unsuspecting idiot (Steve Carrell).
Directed by Jay Roach, it co-stars Stephanie Szostak, Bruce Greenwood and Zach Galifianakis. In the US it got mixed reviews and opened to middling box office. [Odeon West End & Nationwide / 12A]
The Switch (Lionsgate UK): A romantic comedy about an unmarried 40-year-old woman (Jennifer Aniston) who turns to artificial insemination in order to become pregnant, only to find out years later from her best friend (Jason Bateman) that there may be complications on who is the real father.
Directed by Josh Gordon, this comedy attracted average reviews in the US and provoked a bizarre war of words between Aniston and Fox News host Bill O'Reilly. [Empire Leicester Square & Nationwide / 12A]
The Last Exorcism (Optimum Releasing): A low budget mockumentary horror, shot from the perspective of a priest filming his last exorcism.
Shot by director Daniel Stamm for just $1.5 million, it narrowly missed out on the number 1 slot at the US box office last weekend and got a warm critical response. [Cineworlds Shaftesbury Ave., Wandsworth, Vue West End & Nationwide / 15]
Jonah Hex (Warner Bros.): A comic book adaptation about a soldier (Josh Brolin) seeking revenge after the US Civil War, when he was horribly disfigured by his ruthless commanding officer (John Malkovich).
Despite an impressive cast featuring Brolin, Megan Fox and Michael Fassbender this bombed in the US after bad buzz, negative reviews and a running time of just 81 minutes, which suggests the studio tried some kind of rescue job in the edit suite. [Nationwide / 15]
Why Did I Get Married Too? (Lionsgate UK): The latest film from Tyler Perry is the sequel to Why Did I Get Married? (2007) and is about four couples who undertake a week-long retreat to improve their relationships. Directed by and starring Perry, it co-stars Janet Jackson and Tasha Smith. The usual bad reviews that surround Perry's films may give you some idea of what to expect. [Nationwide / 12A]
ALSO OUT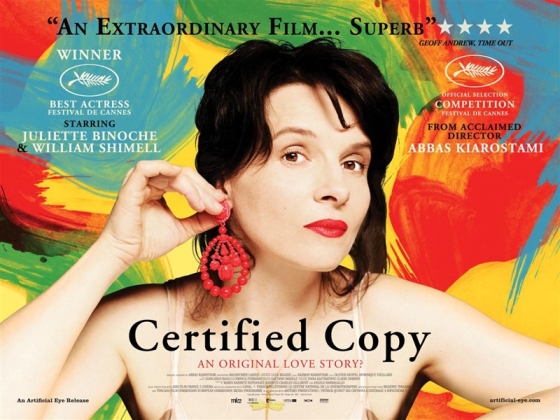 Certified Copy (Artificial Eye): The latest film from Iranian director Abbas Kiarostami is a drama set in Tuscany about a French art gallery owner (Juliette Binoche), who pretends to be married to a man she has just met. The dialogue is in French, English and Italian. Binoche won the Best Actress at Cannes earlier this year for her role. [Barbican, Curzons Mayfair, Richmond, HMV Curzon Wimbledon & Nationwide / 12A]
22 Bullets (Anchor Bay UK): A French thriller about a retired mobster (Jean Reno) who goes on a revenge spree after being left for dead with 22 bullets in his body by his former childhood friend. Directed by Richard Berry. [Key Cities / 18]
Bonded By Blood (Revolver Entertainment): Another British gangster film based on the Rettendon Range Rover murders of December 1995. Directed by Sacha Bennett, it stars Kierston Wareing, Neil Maskell and Tamer Hassan. [Key Cities / 18]
Cherry Tree Lane (Metrodome Distribution): The third film from writer-director Paul Andrew Williams is a gritty crime drama about a young couple terrorized in their home by a group of teenagers. [Curzon Soho / 18]
No Impact Man (Dogwoof): A documentary following a Manhattan-based family as they abandon their high consumption lifestyle and try to live a year while making no net environmental impact. Directed by Laura Gabbert. [Empire Leicester Sq., Everyman, Lexi, Ritzy & Nationwide / 15]
SoulBoy (Soda Pictures): A coming-of-age drama set in the 1970s Northern Soul underground music scene, directed by Shimmy Marcus. [Soda Pictures Empire Leicester Sq., & selected Key Cities / 15]
Splintered (Kaleidoscope Entertainment): A British horror film set in a remote part of North Wales, directed by Simeon Halligan. [Key Cities / 18]
Perestroika (ICA Cinema): A film about that re-enacts a journey on the Trans-Siberian railway to investigate loss and memory. [ICA Cinema]
> UK DVD and Blu-ray picks for this week including Four Lions and Sherlock
> Get local cinema showtimes for your area via Google Movies