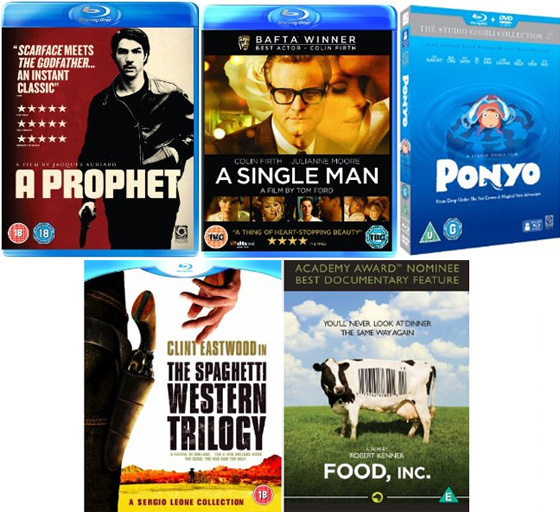 [ad]
DVD & BLU-RAY PICKS
A Prophet (Optimum Home Entertainment): One of the standout films of last year was this scintillating prison drama about a lowly Arab criminal named Malik (Tahar Rahim) who is drawn into the inner circle of a Corsican mafia group, led by the ruthless César Luciani (Niels Arestrup). After a tough initiation, Malik learns how to read and write, and starts to learn how power works inside and outside the prison.
Directed by Jacques Audiard, it features two outstanding lead performances from Rahim and Arestrup, and quickly established itself as an instant classic, scooping the Grand Prix at Cannes and topping many critic's end of year polls. Audiard doesn't shy away from the dark brutalities of prison life, but manages to construct a compelling portrait of how criminal empires are born. An absolute must see. [Blu-ray / DVD]
A Single Man (Icon Home Entertainment): Adapted from Christopher Isherwood's 1964 novel, it explores a day in the life of a grieving English college professor (Colin Firth) during the early 1960s. A highly impressive directorial debut for fashion designer Tom Ford, it co-stars Julianne Moore, Matthew Goode and Nicholas Hoult.
The stand out element here is a wonderfully nuanced performance from Firth, who was desrvedly nominated for an Oscar, along with some excellent production and costume design. Regrettably, Ford and co-screenwriter David Scearce tinker too much with the source novel (making one major alteration) but there is still much to admire here, not least the fact that Ford largely funded the project himself, which is highly unusual even for the richest filmmakers in Hollywood. [Blu-ray / DVD]
Ponyo (Optimum Home Entertainment): The latest animated film from renowned director Hayao Miyazaki is a story of friendship between a five-year-old boy and a goldfish princess who wants to be human.
Featuring the voices of Matt Damon, Liam Neeson, Cate Blanchett and Tina Fey it loosely adapts Hans Christian Anderson's The Little Mermaid into a contemporary Japanese setting. Although not quite up to the standards of his finest work, this is still a delight. Stylistically, it is something of a departure with more sparse compositions but the positive vibes, reflected in the bright pastel colors and energy of the film make it a highly pleasurable introduction to Miyazaki's work for newcomers. [Blu-ray + DVD]
Extras include:
Storyboards
The Five Genuises Who Created Ponyo – interviews
Japanese trailers and TV spots
Intro by Kathleen Kennedy and Frank Marshall (3:19)
A Conversation with Hayao Miyazaki and John Lasseter (3:30)
Behind the Microphone: the Voices of Ponyo (6:01)
Creating Ponyo (3:55)
Ponyo and Fujimoto(2:56)
The Nursery (1:57)
Scoring Miyazaki (7:17)
The Producer's Perspective: Telling the Story (2:25)
The Locations in Ponyo (9:39)
Hayao Miyazaki interview (14.00)
Toshio Suzuki interview (29:00)
Dubbing Session and interview with Japanese cast 25:00)
Music Video of the theme song (3:30)
Spaghetti Western Collection – A Fistful Of Dollars/The Good, The Bad and The Ugly/For A Few Dollars More (20th Century Fox Home Ent.): Sergio Leone's iconic Western trilogy, which established Clint Eastwood as an international star, is re-released on Blu-ray as part of "Eastwood month", celebrating his 80th birthday, and features A Fistful of Dollars, For a Few Dollars More and The Good, the Bad, and the Ugly.
There has been a lot of debate about the transfer of these classic westerns to Blu-ray – with HD enthusiasts less than happy with the finished result – but the films are enduring enough to make a purchase worthwhile. The plentiful extras from the DVD versions are included with contributions from film historian Christopher Frayling and commentaries on all three films. The featurettes include Clint Eastwood looking back on the making of the trilogy, location comparisons and two solid pieces on Leone himself. [Blu-ray / DVD]
Food Inc. (Dogwoof): A disturbing but enlightening documentary from director Robert Kenner which explores the dark side of America's food industry and the way in which deregulation has affected what people eat.
Featuring many eye opening sequences featuring chickens, pork chops, soybean seeds, and even tomatoes that won't go bad, there is a lot here to chew on, both figuratively and literally. Featuring interviews with Eric Schlosser (author of Fast Food Nation) and progressive social entrepreneurs like it is a compelling tale of how food gets to US tables. [DVD]
ALSO OUT
Absolute Power (Warner Home Video)
Bad Boys (Sony Pictures Home Ent.)
Brothers (Lionsgate UK)
Chris Ryan's Strike Back (2 Entertain)
Doctor Who – The New Series: 5 – Volume 1 (2 Entertain)
Exam (Sony Pictures Home Ent.)
Heartbreak Ridge (Warner Home Video)
Home (Universal Pictures)
Kelly's Heroes (Warner Home Video) 
Pacific – The True Stories (Revolver Entertainment)
RoboGeisha (Showbox Media Group)
The Rookie (Warner Home Video) 
The Story of Science (2 Entertain) 
The Wolfman (Universal Pictures) 
Tora! Tora! Tora! (20th Century Fox Home Ent.) 
Where Eagles Dare (Warner Home Video)
> The Best DVD and Blu-ray releases of 2009
> UK cinema releases for Friday 4th June including She's Out of My League, 4,3,2,1 and Death at a Funeral