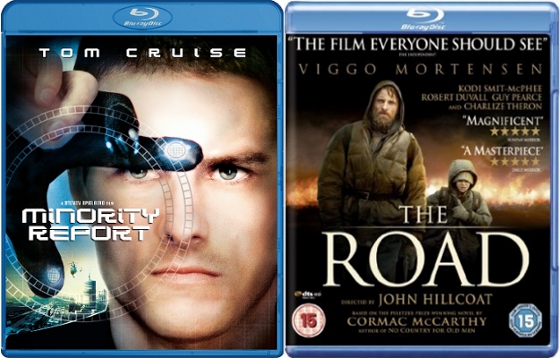 [ad]
DVD & BLU-RAY PICKS
Minority Report (20th Century Fox Home Ent.): Steven Spielberg's 2002 sci-fi thriller arrives on Blu-ray and has already garnered high praise for the quality of the transfer and extras. Adapted from Philip K Dick's short story, it is set in Washington, 2054 where crime can be predicted by a specialised police unit using advanced technology and three psychics. When the head of the 'Precrime' unit (Tom Cruise) is shocked to see himself as a future murderer, he goes on the run and tries to figure out a murder he is going to commit.
Possibly Spielberg's best film of the last decade, Minority Report featured a stellar supporting cast (Colin Farrell, Samantha Morton, Max Von Sydow) and a convincingly dystopian view of the future. Like Blade Runner it combines a film noir narrative with a vision of a divided society where technology throws up recurring ethical dilemmas. The production design and distinctive look of the film, especially the visual effects, have made it a favourite in tech circles as the touch screen technology appears to have had an influence on devices (iPhone, iPad) and operating systems (Windows 7) since its release.
The Blu-ray has already got raves for the quality of the transfer. Gary Tooze of DVD beaver has described it as:
"impeccable – representing the film with pin-point authenticity. Achieving the intended appearance so succinctly I'd have to say this image quality is quite perfect – as perfect as I have seen in a while. It appears to look EXACTLY as the film was meant to. If you aren't keen on the appearance blame the filmmakers not this pristine transfer"
There is actually a second Blu-ray disc featuring a lot of extras in HD as well as the features that were included in the standard 2002 DVD release.
The extras break down like this:
The Future According to Steven Spielberg (18-part – 34:03 in HD)
Inside the World of Precrime (10:11 in HD)
Philip K. Dick, Steven Spielberg and Minority Report (14:19 in HD)
Minority Report: Future Realized (6:22 in HD)
Minority Report: Props of the Future (9:42)
Highlights from Minority Report From the Set (2 pieces): The Hoverpack Sequence (6:06 in HD); The Car Factory Sequence (2:57 in HD)
Minority Report: Commercials of the Future (3:55 in HD)
Previz Sequences: The Hoverpack Sequence Previz (1:43 in HD); Maglev Chase Previz (2:10 in HD)
Previously Released Special Features (duplicated from the last DVD – all in SD)
From Story to Screen (19:03 in total): (2 pieces): The Story/The Debate (9:36); The Players (9:27)
Deconstructing Minority Report (42:06)
The Stunts of Minority Report (26:45)
ILM and Minority Report (6-part – 20-minutes in total)
Final Report (3:59)
Production Concepts / Storyboard Sequences
Three Trailers in HD
[Buy Minority Report on Blu-ray]
The Road (Icon Home Entertainment): The film adaptation of Cormac McCarthy's 2006 novel is a haunting tale of survival in a post-apocalyptic world featuring two outstanding lead performances. It depicts the journey of a father (Viggo Mortensen) and son (Kodi Smit-McPhee) across an America which has descended into savagery after an unspecified environmental and social collapse. Part of the story's raw power is the absence of any explanation as to why the world is collapsing, which shifts the focus on to the central relationship and the day to day struggle to survive.
Given that the story involves suicide, cannibalism and humans acting like savages you have to give credit to director John Hillcoat (who made the gritty Australian western The Proposition in 2005) and screenwriter Joe Penhall (author of the acclaimed play Blue/Orange) for properly translating the horrors and emotions of the novel into a film. It was this authentic rawness that probably meant that it was never going to be a huge box office hit, but there is much to admire here. The visuals look particularly striking: cinematographer Javier Aguirresa opts for a brownish palette to depict the harsh, ash-ridden environment; the art direction and production design also makes very clever use of rural US locations to create a chilling post-apocalyptic world.
Audiences unfamiliar with the novel may be taken aback by how bleak the story is and the film certainly doesn't pull its punches: roaming gangs of cannibals, potential suicide and houses filled with half alive bodies are just some aspects that will disturb, although the most notorious scene from the book is omitted. Another thing to look out for is the interesting supporting cast, which is filled with excellent performances – most of which are extended cameos – from Charlize Theron, Robert Duvall and Guy Pearce. The soundtrack by Nick Cave and Warren Ellis strikes an appropriately mournful tone with a notable piano motif reminiscent of Arvo Paart.
The special features on the Blu-ray include:
Special features include:
Director's commentary
Deleted and extended scenes
The Making of The Road
Two theatrical trailers
BD-Live
movieIQ+sync
[Buy The Road on Blu-ray / Buy it on DVD]
ALSO OUT
About Last Night (Sony Pictures Home Ent.) [Blu-ray / DVD]
Atonement (Universal Pictures) [Blu-ray / DVD]
Bridget Jones: The Edge of Reason (Universal Pictures) [Blu-ray / DVD]
Creepshow 2 (Boulevard Entertainment Ltd) [DVD]
Institute Benjamenta (BFI) [Blu-ray & DVD]
Night of the Living Dead (Boulevard Entertainment Ltd) [Blu-ray]
Ninja Assassin (Warner Home Video) [Blu-ray & DVD]
Porcupine Tree: Anesthetize (Kscope) [Blu-ray & DVD]
Pride and Prejudice (Universal Pictures) [Blu-ray]
Privilege (BFI) [Blu-ray / DVD]
Rhythm Is It! (Wienerworld) [Blu-ray]
Sex and Drugs and Rock and Roll (EV) [Blu-ray / DVD]
Sherlock Holmes (Warner Home Video) [Blu-ray / DVD]
Slugs (Boulevard Entertainment Ltd) [DVD]
Spread (Optimum Home Entertainment) [Blu-ray / DVD]
St Elmo's Fire (Sony Pictures Home Ent.) [Blu-ray]
The Man Who Would Be King (Sony Pictures Home Ent.) [DVD]
The Party's Over (BFI) [Blu-ray & DVD]
The Pleasure Girls (BFI) [Blu-ray + DVD]
True Blood: Season 2 (Warner Home Video/HBO) [Blu-ray / DVD]
True Blood: Seasons 1 and 2 (Warner Home Video/HBO) [Blu-ray / DVD]
Valhalla Rising (Momentum Pictures) [Blu-ray / DVD]
> The Best DVD and Blu-ray releases of 2009
> UK cinema releases for Friday 14th April including Robin Hood, American: The Bill Hicks Story and Lebanon