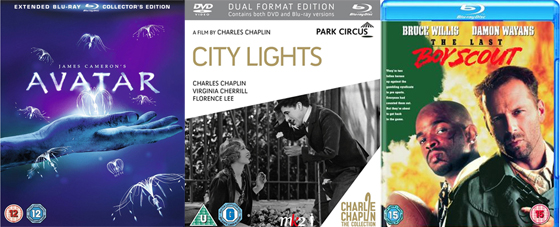 Avatar: Collector's Extended Edition (20th Century Fox Home Entertainment): James Cameron's sci-fi blockbuster finally gets the special edition treatment after a barebones release back in the Spring.
The major selling point for this package is that it contains three different cuts: the original theatrical release, the special edition re-release, and the exclusive extended cut not shown in theaters, along with eight hours of bonus features that exhaustively detail the production of the film. [Buy it on Blu-ray or DVD]
City Lights (Park Circus): The 1931 silent comedy-drama from Charlie Chaplin sees The Tramp fall in love with a beautiful, blind flower girl and form an unlikely friendship with a wealthy man.
Still one of the landmark films of the 1930s, this restoration on Blu-ray comes with some nice features including a documentary and outtakes. [But it on Blu-ray]
The Last Boy Scout (Warner Home Video): Although it criticised at the time, this 1991 action thriller directed by Tony Scott and written by Shane Black is wonderfully slick entertainment.
Starring Bruce Willis as a private eye caught up in the world of illegal sports, it is a surprisingly edgy mainstream film with some hilariously cynical humour and world weary performances. The studio were reportedly upset with the film but the Blu-ray release is a chance to appreciate Scott's visual tricks in all their widescreen glory. [Buy it on Blu-ray]
ALSO OUT
An Idiot Abroad (2 Entertain) [Blu-ray / DVD]
Charlie Chaplin: The Circus (Park Circus) [Blu-ray with DVD]
Fast and Furious/Gladiator/Wanted (Universal Pictures) [Blu-ray]
How to Train Your Dragon (DreamWorks Animation) [Blu-ray / DVD]
Lethal Weapon Collection (Warner Home Video) [Blu-ray]
Spirits of the Dead (Arrow Films) [Blu-ray]
Star Wars – The Clone Wars: Season 2 (Warner Home Video)
The Karate Kid (Sony Pictures Home Ent.) [Blu-ray with DVD]
White Christmas (Paramount Home Entertainment) [Blu-ray]
> The Best DVD and Blu-rays of 2009
> UK Cinema Releases for Friday 12th November 2010