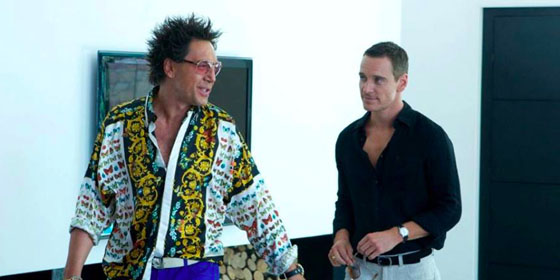 The screenwriting debut of novelist Cormac McCarthy sees him team up with director Ridley Scott for a bleak tale set amidst the drug trade of the US-Mexican border region.
When a shady lawyer (Michael Fassbender) gets caught up in a transaction gone wrong, he starts to fully realise that his world may be a cesspit of corruption of murder, endangering not only him but his fiancee (Penelope Cruz).
Employed by a flamboyant Mexican dealer (Javier Bardem), who has a strangely sinister girlfriend (Cameron Diaz), he is warned by a business associate named Westray (Brad Pitt) that Mexican cartels can be ruthless and unforgiving when crossed.
Although an original screenplay, we are firmly in 'McCarthy-land', where human suffering is seemingly around every corner and harsh punishment is meted out in remorseless ways.
Ridley Scott has long been interested in bringing the novelist's Blood Meridian to the screen and he's admitted that when the option to make this film came up, he jumped at the chance.
The result is a dark and strange film, defiantly going against the grain of conventional studio filmmaking, with its sordid scenes of sex and violence marking it out as a rarity in the current climate of animation and safety-first blockbusters.
It may have one of the most in-demand casts of recent memory, but it largely plays them against type – Fassbender is a naive protagonist, Bardem a surreal supporting act, Diaz a wild femme fatale and Pitt a larger-than-life cowboy, with only Cruz playing it straight.
None of them are untainted by their world (although some are more tainted than others) and initially life seems good for the title character as he indirectly reaps the rewards of the drug trade before foolishly succumbing to his greedier instinct, although ironically it is a benevolent act that triggers the main events of the film.
Although the characters are distinctive, the real stars here are the writer and director: McCarthy has managed to create his grim but often disturbingly plausible visions intact, whilst Scott can do this kind of drama in his sleep as the plot unwinds with clockwork efficiency.
Scott has often been accused of being more interested in visuals than characters, but that makes him a perfect fit for this material, where humans really are pawns, and whilst McCarthy's screenplay will undoubtedly enrage screenwriting gurus, this is no bad thing.
An early scene involving rabbits being chased and hunted by cheetahs is a forewarning of what is to come: shootings, beheadings, strangulation by weird devices.
This is a brutal world in which we see people in over their heads, affected by forces out of their control.
The oddness of the material extends to the quality — parts of the film are highly effective and stay with you long after the final credits roll, but there is also a strange familiarity here.
This may be because Cormac McCarthy has been such a cultural influence on the border region of Mexico and the US: after Breaking Bad (2008-13) and the Coen Brothers' masterful adaptation of his own No Country for Old Men (2007), there seems to be a sense of déjà vu running throughout the film.
Despite this, there is something to admire in how it boldly defies conventions and stays true to the spirit of the screenwriter's vision.
Some audiences will be repulsed by aspects of The Counsellor but like a fine wine may be more appreciated in the years to come.