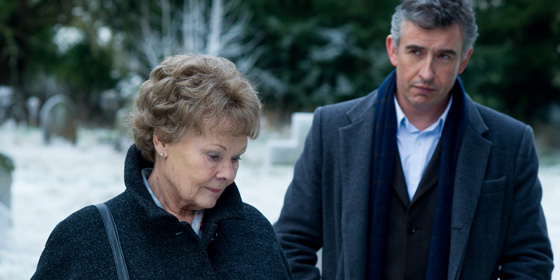 A moving odd-couple road movie based on real events is powered by two outstanding lead performances and the return to form of director Stephen Frears.
Based on the true life tale of how former Labour spin doctor Martin Sixsmith (Steve Coogan) came across the story of Philomena Lee (Judi Dench), an elderly Irish woman looking for the child she was forced to give up for adoption in the 1950s.
Their journey leads them from London to the original convent in Roscrea, Ireland and then on to Washington DC, where Sixsmith's previous life as a BBC journalist comes in handy as they try to find out what has happened to her son.
The misery wrought on generations of young women by Irish nuns was also the subject of Peter Mullan's The Magdalene Sisters (2012), but whilst Frears takes a very different approach, it is both subtle and clever.
Working with an intelligent script by Coogan and Jeff Pope, humour is frequently used to highlight the differences between the cynical, Oxbridge journalist and the (seemingly) naive Irishwoman.
But whilst there are some very funny scenes and memorable lines, Frears skilfully manages to slowly stitch together the two emotional strands, blending heartbreak and laughter with a precision rare in modern cinema.
Coogan is convincing as the highbrow journalist concerned that he is slumming it in a mere 'human interest' story, whilst Dench has her best role for years as the title character, bringing an innocence and wisdom to the part.
Even those familiar with the events of the basic outline of the story may be blindsided by key sequences, as the comic surface is often complemented by a depth and engagement with issues such as faith and regret.
The two contrasting lead characters mirror the film's inner themes: worldly journalist versus innocent Catholic; atheism and religion.
One would think the film comes down on Martin's side, but on reflection there is more to the story.
In its final act Philomena throws up a few surprises, both intellectual and emotional, and some of them stay with you after it is all over, which is rare for a film such as this.
It has the sheen of a BBC TV movie — and it was indeed part funded by BBC Films – but rises far above that level, not only as an indictment of an appalling episode in Irish history but of how different people can cope with complex problems of life and death.
Stephen Frears has long been one of the UK's finest living directors but this marks a major return to form after the disappointments of Tamara Drewe (2010) and Lay the Favourite (2012).
Robbie Ryan's cinematography is another bonus, with digital camera work used for the present and Super 16mm utilised for the 1950s flashback scenes.
The editing by Valerie Bonerio is very smooth and the score by Alexandre Desplat isn't too obtrusive, although it's a tad familiar to a lot of his other work.
After a wave of positive reviews at the Venice film festival, the Weinstein Co. – who have US distribution rights – will be busy preparing it for a long awards season campaign and it is hard to imagine it not being a contender, with Dench one of the frontrunners for Best Actress.
Philomena screened tonight (October 16th) at the London Film Festival and will show again on the 17th and 19th
(It opens in the UK on November 1st)