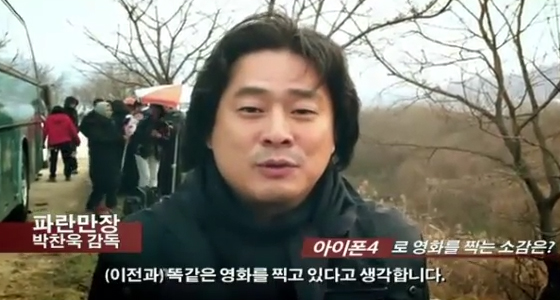 Footage has emerged of the new film Night Fishing, which was made on an iPhone by Park Chan-wook.
When the director of Old Boy (2004) and Thirst (2009) announced the project last week, it sounded like some kind of gimmick, but a new trailer and behind the scenes featurette seem to suggest something more substantial.
The Korean title is 'Paranmanjang' and it is a 30-minute fantasy with the following synopsis:
"A fantastical tale that begins with a middle-aged man fishing one afternoon and then, hours later at night, catches the body of a woman.The panicked man tries to undo the intertwined fishing line, but he gets more and more entangled.

He faints, then wakes up to find himself in the white clothes that the woman was wearing. The movie's point of view then shifts to the woman and it becomes a tale of life and death from a traditional Korean point of view."
This is the trailer:
Funded by the South Korean mobile carrier KT, it cost $130,000, features mostly black-and-white video and was shot on up to eight iPhone 4 devices.
This behind the scenes film shows the full range of filmmaking equipment that was used to augment the cameras on each phone.
Despite the cost of the project, Park is a champion of smartphones as a relatively inexpensive tool to make films, telling the LA Times:
"Find a location. You don't even need sophisticated lighting. Just go out and make movies. These days, if you can afford to feed yourself, you can afford to make a film."
Quentin Tarantino is an admirer of Park and as well as chairing the Cannes jury which awarded Old Boy the Grand Jury Prize in 2004, he also regards Joint Security Area (2000) to be one of best films made since 1992.
> Park-Chan Wook at Wikipedia
> Other films made on an iPhone 4 at Vimeo