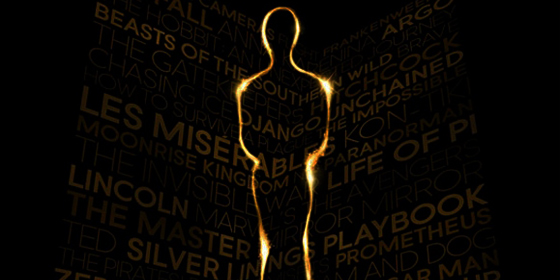 With the most interesting and unpredictable awards season in years drawing to a close, it seems like a good time to reflect and speculate on what might win on Sunday at the 85th Academy Awards.
How are Oscars won and why exactly do some films become frontrunners early on only to triumph (or not) on the big night?
The simple answer is that the 6,000 members of the Academy of Motion Pictures Arts and Sciences are balloted and then vote for what they think is 'the best achievement' in a particular category.
By this point, contenders will have emerged and then nominees are announced.
It all culminates in a globally televised ceremony in which the winners are announced and the famous gold statuettes are handed out and the arguments begin over who deserved what.
But how are they really won?
The months leading up to the ceremony are often more interesting than who wins and also provide a useful snapshot of a particular year – the book 'Scenes from a Revolution' by Mark Harris examining the 1967 Oscar race is fascinating and one of the best film books in recent years.
A lot of words get written about famous snubs, such as when Ordinary People beat Raging Bull for Best Picture in 1980, why the Academy took so long to honour Martin Scorsese and the lack of Best Director trophies awarded to cinematic giants like Welles, Kubrick and Hitchcock.
But there can be interesting years like 1974 (when The Godfather II was up against Chinatown and The Conversation) and 2007 (when No Country For Old Men was competing with There Will Be Blood and Michael Clayton) when an unfortunate surfeit of quality leads to classics losing out.
Amidst all the glamour and hoopla, it isn't just the perceived quality of the films that determines winners.
Perhaps the biggest change since around the early 90s has been the aggressive behind-the-scenes campaigning, which is filled with the kind of stuff you'd expect to see on-screen: suspicion, intrigue, heroes and villains.
Of course the latter depends on who is campaigning for you and whether or not you win.
Generally speaking, the 'awards season' really heats up with the Telluride, Toronto and Venice film festivals at the end of August and beginning of September, although other major festivals can be important – Beasts broke out at Sundance 2012 and  Amour won the the Palme d'Or at Cannes in May.
Plenty of factors have distinguished winners since the late 1920s: box office, how an actor or director was (or is) perceived by the Hollywood community, PRs, awards consultants, and (lest we forget!) excellence in a particular category.
It doesn't always work out, and there have been some infamous snubs, but generally when the nominations come around each year there is a lot to chew on in terms of quality, unless it is a really bad year.
How is the buzz then channelled into Oscar victory?
It often starts when a movie is green lit by a studio or financier as they assemble the package, although at this stage and during production, it would be foolish to assume anything.
Other features of a potential Oscar winner might include: a period setting, heavyweight acting talent, a name director trying to make a serious or issue film, often featuring a major character with some kind of disability.
As the films go through the cogs of the awards cycle, the various critics groups and guild awards give their verdicts, and this is where the punditry and guessing games kick in.
Traditionally, this was a more restrained affair, with the studios taking out 'For Your Consideration' ads in the two major trade journals: Variety and The Hollywood Reporter.
But as both publications have lost their influence in the rapidly advancing online world, the vacuum has subsequently been lost to websites such as Deadline, Awards Daily, Hollywood Elsewhere, IndieWIRE, The Wrap, Gold Derby, Movie City News and In Contention which offer more in-depth and often better coverage via social media, podcasts and long-form video interviews.
Some of these sites measure the Oscar odds through statistics, getting out in the real world and talking anonymously to voters, and just generally gauging what they think is the pulse of the Academy mind.
There are also a raft of people with years of experience at schmoozing voters such as Harvey Weinstein (arguably the king of Oscar campaigning, first at Miramax and now at The Weinstein Company) and Cynthia Swartz (the awards strategist behind The Hurt Locker and The Social Network).
What makes this year's race interesting is the spread of nominees in the major categories and the way in which the introduction of online voting may have affected the process – even though BAFTA have been doing it since 2003 – and members still had the option to mail them instead.
Voting opened on December 17th and the fifteen branches that make up the Academy (actors, directors, costume designers etc.) are then asked to vote for members of their particular branch, from which the final nominees are then selected.
Argo is currently the favourite for Best Picture, but Lincoln and Life of Pi are very strong contenders, and there could be a three-way split amongst the vote, mainly due to Ben Affleck's weird absence from Best Director, which has only happened a handful of times in Oscar history.
Affleck's omission is not the only anomaly.
It is very rare for the director of a foreign language film to get nominated, let alone his leading actress, but Michael Haneke and Emmanuelle Riva have managed to achieve recognition for their outstanding work in Amour.
The presence of 85-year old Riva and 9-year old Quvenzhané Wallis (for Beasts of the Southern Wild) in the Best Actress race is mind-blowing and testament to both their work and the unusual nature of this year, which could be the result of the change in the balloting date or just chance.
Ah, yes. Chance.
That factor we like to forget because we can't quantify the unknown and it can make us look ignorant of things we might have missed, underlying trends and the basic fact that each year is a different collection of films voted on by 6,000 human beings with their own unique tastes and quirks.
Given the new online voting system introduced this year and the insanely eclectic list of nominees, this year's lineup is harder to call than ever.
With that in mind here's my take on the three frontrunners and the rest of the pack:
Lincoln

: Daniel Day Lewis gives a remarkable performance as the iconic US president and the film marks a big return to form for Steven Spielberg, with a lucid script by Tony Kushner. For whatever reasons, The Academy has had mixed feelings about Spielberg down the years, but this is his best work since Minority Report (2002) and Munich (2005).

Life of Pi

: Yann Martel's novel about an Indian teenager stranded in the Ocean with a tiger was considered unfilmable until visual effects reached a certain level. That day has now come and the resulting adaptation an extraordinary technical achievement for Ang Lee and his crew. Featuring no big stars, it has been a big hit at the global box office. A definite dark horse.

Argo

: An extremely well-constructed thriller about an unlikely true life tale, Ben Affleck's third film as director was set against a tricky subject (the 1979 Iranian hostage crisis). Produced by George Clooney and Grant Heslov, Affleck also stars and despite some uneasy comedy in places, the pacing, tension and Affleck's awards campaigning make it a well liked film.
And for the rest:
Amour

: Michael Haneke's outstanding drama about an elderly Parisien couple is a surprising but welcome addition to the Best Picture category. It is rare for a foreign language film to get recognition in a major category but since winning the Palme d'Or in May, has ridden a wave of richly deserved acclaim. 

Look out for Emmanuelle Riva to cause an upset in Best Actress on her 86th birthday even though Jennifer Lawrence is favourite for Silver Linings Playbook.

Beasts of the Southern Wild

: Another remarkable achievement with young director Benh Zeitlin becoming the toast of Sundance with his debut film. It won't win anything but its four nominations (including director, actress, screenplay and adapted screenplay) are a stunning achievement for both the film and Fox Searchlight, who acquired it back in January 2012.

Django Unchained

: Tarantino's 'slavery spaghetti western' may get a screenplay nod and Christoph Waltz is definitely a possibility in Best Supporting Actor, but a combination of the violence (extreme even by the director's standards) and unnecessary last 25 minutes is likely to have put voters off.

Les Misérables

: Working Title teamed up with Cameron Mackintosh to finally bring his blockbuster musical to cinemas with mixed results. Director Tom Hooper assembled an impressive cast (Hugh Jackman, Russell Crowe, Anne Hathaway) but musicals are a divisive genre (generally speaking, I can't stand them) and early on this lost momentum. However, Hathaway is red hot favourite for Best Supporting Actress.

Silver Linings Playbook

: A romantic comedy about bipolar disorder might seem an unlikely contender but David O'Russell's film shouldn't be counted out. Not only does it contain two contemporary stars (Cooper and Lawrence) and a former legend (De Niro), but it features in all the major categories and has had the formidable machinery of The Weinstein Company behind it.

Zero Dark Thirty

: Just three years after winning Best Picture, screenwriter Mark Boal and director Kathryn Bigelow teamed up for their second 'war on terror' movie. Arguably superior to The Hurt Locker, this focused on the hunt for Osama Bin Laden, but it's awards season chances were damaged by the 'torture controversy' that blew up before its wide release. It could get a screenwriting award for Boal as a counter blast to all its critics.
There is a strange duality to the Oscars that mirrors Hollywood's wider mix of commerce and art: red carpet glamour is mixed with backstage whispers; careers can be boosted (or even strangely derailed) by wins, people are snubbed for years and sometimes the planets align for no particular reason.
Some years a large portion of the global TV audience is wondering why they haven't even heard of the nominees, let alone seen the films.
Whilst all the media attention will be on who does win, remember not to take any awards ceremony too seriously.
The Academy Awards can be a useful snapshot of a particular year, but the ultimate judge of any film's importance is time.
> Official site
> More on the 85th Academy Awards at Wikipedia