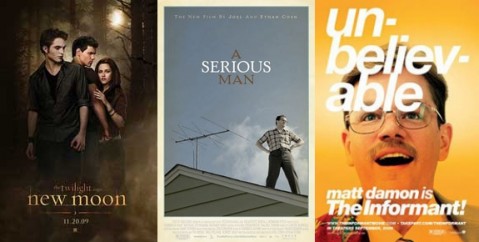 [ad]
NATIONAL RELEASES
The Twilight Saga: New Moon (E1 Entertainment): The second instalment of the Twilight saga based on the mega selling books by Stephenie Meyer sees vampire Edward Cullen (Robert Pattinson) leave for Italy in order to protect Bella (Kristen Stewart) who is consoled by her friend Jacob (Taylor Lautner) who turns out to have secrets of his own.
If you have no idea what any of this means then you probably aren't a teenage girl. But female fans (of whom there are many) are going to make this one of the biggest films of the year and swell the coffers of UK distributor E1 Entertainment. (Read my full thoughts on the film here). [Vue West End & Nationwide / 12A]
A Serious Man (Universal): The Coen Brothers explore the late 60s Minnesota of their childhood with this tale of a Jewish maths professor named Larry Gopnik (Michael Stuhlbarg). It explores his struggles with a hectoring wife (Sari Lennick), her annoying widower lover (Fred Melamed); a leeching brother (Richard Kind); a pothead son (Aaron Wolff ); dithering academic colleagues and a succession of perpetually useless rabbis.
After the Oscar success of No Country For Old Men, they have made one of their most personal films, a rich and superbly crafted tale with stunning technical contributions across the board. Easily one of the best films to come out this year it also ranks alongside Fargo and No Country as one of the Coens' very best. How it does at the box office is another matter but it fully deserves Oscar and BAFTA recognition. (Read my full thoughts on the film here.) [C'World Haymarket, Curzon Soho, Odeon Covent Gdn. & Nationwide / 15]
The Informant! (Warner Bros.): Based on the so-bizarre-it-has-to-be-true story of Mark Whitacre (Matt Damon), a corporate whistle blower in the 1990s who helped expose a price fixing scam despite being a compulsive liar.
Stylishly directed by Steven Soderbergh, it is smart, funny and evocative of the 1990s. Matt Damon is superb in the lead role and look out for some fine supporting performances from the likes of Melanie Lynskey and Scott Bakula. [Nationwide / 15]
[ad]
IN LIMITED RELEASE
Glorious 39 (Momentum Pictures): A mysterious tale set around a traditional British family on the eve of World War Two, starring Romola Garia, Bill Nighy, Julie Christie and directed by Steven Poliakoff.  [Odeon West End & Key Cities from November 27th / 12A)
The First Day Of The Rest Of Your Life (Metrodome): A sprawling French drama centered around five keys days in a family's life directed by Rémi Bezançon. [Apollo Piccadilly Circus, Genesis Mile End & Key Cities / 15]
Machan (Yume Pictures): Hindi film about a love story with a terrorist angle starring Saif Ali Khan, Kareena Kapoor and Vivek Oberoi. [Empire Leicester Square / 15]
The Sea Wall (Axiom): A drama about a teenage girl who has an affair with a worldly older man in 1920s French Indo-China based on a Marguerite Duras novel. Isabelle Huppert stars. [Apollo Picc Circus, Cine Lumiere, Curzon Renoir & Key Cities]
Southern Softies (Northern Pics/Chick Ken): A travelogue by John Shuttleworth, in which he visits the Channel Islands. [Gate Notting Hill, Greenwich Picturehouse, Ritzy & Key Cities]
Examined Life (ICA Films): A documentary examining life with the help of modern thinkers. [ICA Cinema & selected Key Cities]
Ulysses (Contemporary Films): A re-issue for director Joseph Strick's bold attempt to film James Joyce's famously 'unfilmable' novel. [Barbican / 15]
> UK cinema releases for November 2009
> Get local showtimes via Google Movies UK
> UK DVD & Blu-ray picks for this week including Fanny and Alexander, Star Trek, Moon, For All Mankind and North By Northwest (W/C Monday 16th November 2009)