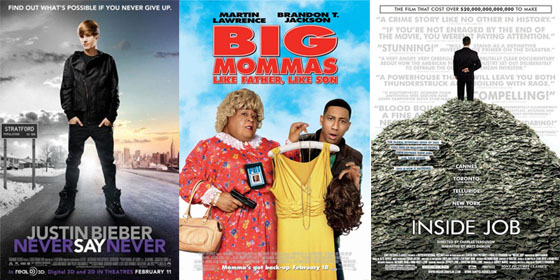 NATIONAL RELEASES
Justin Bieber: Never Say Never (Paramount): A 3D documentary about the teen pop sensation features footage of performances from his 2010 world tour and includes home videos of Bieber as a young child.
Directed by Jon Chu, it also features Justin Bieber, Miley Cyrus and Jaden Smith. The hordes of young fans (or 'Beliebers') are likely to make this a financial success and some surprisingly strong reviews are going to provide some degree of comfort for parents dreading the thought of watching it alongside screaming kids. [Nationwide / U]
Big Momma's: Like Father, Like Son (20th Century Fox): Martin Lawrence reprises his role as an FBI agent who disguises himself in drag for a third time.
Directed by John Whitesell and co-starring Brandon T. Jackson, this is going to get scathing reviews but its very existence confirms the appetite for lame slapstick. [Nationwide / PG]
Inside Job (Sony Pictures): One of the most important documentaries in years explores the deeply troubling relationship between financial and political elites which triggered the global economic crisis.
Narrated by Matt Damon, it includes several highly revealing interviews and manages to clearly explain the underlying causes of how Wall Street persuaded successive governments to turn a blind eye to their practices. Nominated for an Oscar, it should do solid arthouse business on the back of great reviews and word of mouth. [Empire Leicester Square & Nationwide / 12A] [Read the full review here and listen to our interview with director Charles Ferguson here]
ALSO OUT
Confessions (Third Window Films): This startling Japanese drama is the story of a teacher (Takako Matsu) who reveals that her daughter was killed by two pupils in her class and explores the consequences of her revenge as we see the aftermath through a series of first-person narratives.
Directed by Tetsuya Nakashima and co-starring Yoshino Kimura and Masaki Okada it is similar in style and substance to films like Oldboy (2004) although has its own peculiar charms and qualities, which have helped it get nominated for the Best Foreign Film at the Oscars. A brief arthouse run will probably create some buzz before the DVD and Blu-ray release in April. [ICA, Ritzy, Genesis & Key Cities / 15]
Day for Night (BFI): A re-issue of the Francois Truffaut film about the making of a film, stars Jacqueline Bisset and Jean-Pierre Léaud. [BFI Southbank, Filmhouse Edinburgh & Key Cities]
> Get local cinema showtimes at Google Movies or FindAnyFilm
> UK DVD & Blu-ray releases for Monday 14th February 2011, including The Social Network and The Illusionist