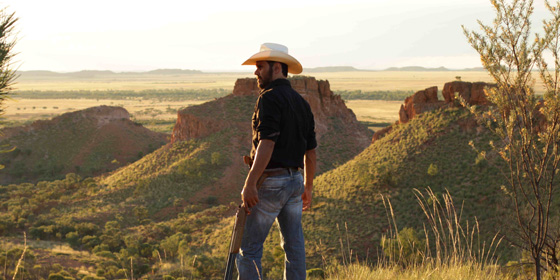 Director Ivan Sen makes great use of the sparse Australian landscape to create a brooding police procedural that almost functions as a contemporary Western.
When the corpse of a young aboriginal girl is found on a remote Outback highway (the road of the title), the investigating detective (Aaron Pedersen) slowly uncovers a web of indifference and sinister motives in his home town.
Although it contains familiar tropes of the conventional murder-mystery, the distinctive setting and approach give it an unusual flavour.
The gorgeously framed sunsets and blue skies are undercut by a sinister stench of indifference and corruption, which even appears to be infecting police colleagues, including his boss (Tony Barry) and fellow officer (Hugo Weaving).
Moving at a slower pace than is usual for this genre, the film may irk some impatient viewers, but the multi-talented Sen (who serves as the writer-director-cinematographer-editor) manages to create a compelling atmosphere.
He also proves himself as a fine director of actors, coaxing a nicely stoic lead performance from Aaron Pedersen, and some solid supporting turns from Weaving and Barry.
Pedersen makes an interesting lead as he could almost be as being a modern day Shane with his white hat and steely determination to root out wrongdoing.
But he also has a nicely laconic sense of humour and is a real presence on screen, showing an impressive range from intimate family scenes to a climactic shoot-out.
That particular sequence seems on the surface to be a homage to a traditional Western climax, but like the rest of the film manages to subvert the familiar whilst acknowledging it at the same time.
The ghost of Australia's past is ever present with the issue of race always in the background. But the film manages to effectively weave these into the genre conventions with considerable tact and skill.
Clunky dialogue is refreshingly absent from the script and the power of silence is shrewdly used in key sequences where words have real importance, reflecting the anxieties simmering beneath the surface of everyday life.
When this atmosphere gets heated up by the investigation into the young girl's death, implicating those close to the lead character, the film becomes more than just a murder-mystery and something symbolic about Australia itself.
Shot in the arid outback of Western Queensland, the locations gradually assume a greater meaning with the metaphorical title not only key to the narrative but also the major thematic concern of the film.
It might seem a strange or even foolhardy choice to attach such weighty issues as race to a hybrid Western/Mystery film but it turns out to be an inspired one, with Sen rapidly establishing himself as a talent to watch.
Mystery Road screened at the London Film Festival on October 10th, 11th and 19th (UK release is TBC)