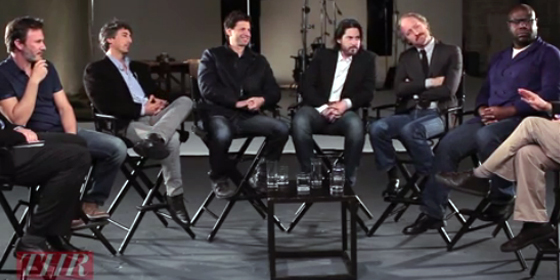 The directors Alexander Payne (The Descendants), Mike Mills (Beginners), Steve McQueen (Shame), Jason Reitman (Young Adult), Bennett Miller (Moneyball) and Michel Hazanavicius (The Artist) all sat down recently for an awards season round table chat with Stephen Galloway of The Hollywood Reporter.
Part 1 
Where they talk about makes a great director and get into a discussion about Ryan O'Neil in Stanley Kubrick's Barry Lyndon.
Part 2
Where they discuss the lack of female and black directors before Steve McQueen questions why more minorities aren't cast in movies (this video has generated quite a lot of talk on Twitter, presumably because it hits on an uncomfortable truth)
Part 3
Where they discuss their best and worst experiences as directors, which includes tales of actors not memorising their lines and a crew member being fired.
A transcript of the session is here
> The Hollywood Reporter
> Latest on the awards season at Awardsdaily and In Contention