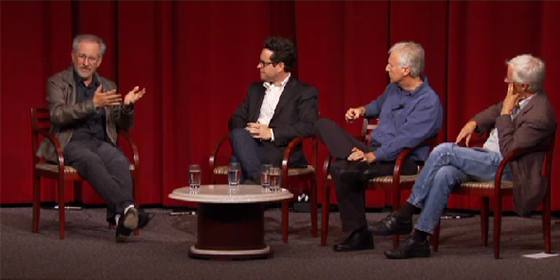 The DGA recently paid tribute to Steven Spielberg with a panel event that included Michael Apted, James Cameron and J.J. Abrams.
Held on June 11th at the DGA Theater in Los Angeles, it was part of their 75th Anniversary 'Game-Changer' series of events.
After an introduction from current DGA president Taylor Hackford, Michael Apted hosts a discussion which sees Abrams and Cameron ask Spielberg questions about his films and career.
It isn't availabe as an embed but if you click on the image below, it will take you to the DGA page where – if you scroll down a bit –  the full video can be found, along with highlights and photos: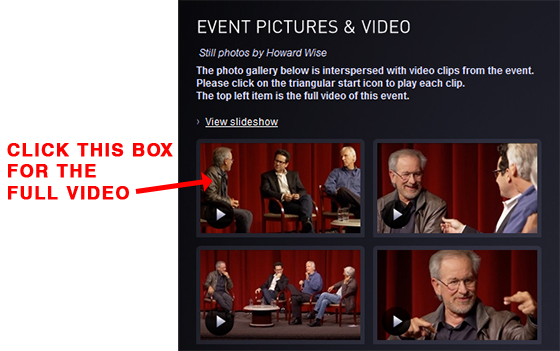 Lasting over 90 minutes, it is a fascinating talk and covers:
The famous boat scene in Jaws (1975)
Abrams coming across the script for Jaws at Spielberg's house
Using motion capture on his upcoming film version of Tin-Tin (2011)
Cameron's love of Close Encounters of the Third Kind (1977) and how it influenced him
The early visual effects Spielberg employed on Close Encounters and why he re-shot the ending
The classic fight scene in Raiders of the Lost Ark (1981) and the fact that Spielberg didn't get ill whilst filming in Tunisia because he had Sainsbury's canned food shipped in from the UK.
Tips on directing children and how a fantastic preview screening of E.T. (1982) upset actor Henry Thomas
How he had to adapt his directorial style for Schindler's List (1993)
The visual effects breakthroughs on Jurassic Park (1993)
Being inspired by the films of David Lean and Stanley Kubrick's 2001: A Space Odyssey (1968)
How he was being glib when he once advised young directors to wear 'comfortable shoes'
The importance of collaboration and listening to co-workers
How he loves shooting in England because the crew there call the director 'Guv'.
JJ Abrams and James Cameron also have nice closing statements about how they have been inspired by him
Spielberg also closes by talking about his biggest regret, the film he's proudest of and the one that most closely resembled his original vision.
[Via /Film]