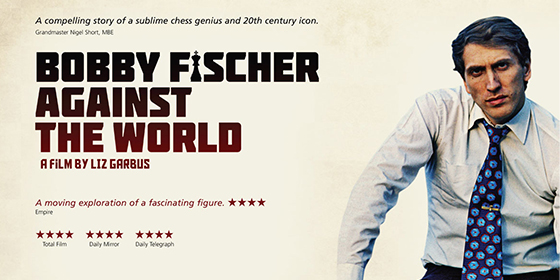 Bobby Fischer Against The World is a new documentary about the rise and fall of the legendary American chess player and his 1972 match with Boris Spassky.
The film explores Fischer's rapid rise to national fame and the political significance of his clash with Spassky, which attracted global media coverage as a wider Cold War confrontation between America and Russia.
It then delves into the later years of his life as he effectively retired at the peak of his career and became a wandering enigma, exiled from his own country, making controversial statements after 9/11, before eventually retreating to Iceland where he died in 2008.
Directed by Liz Garbus, it premiered at Sundance earlier this year and mixes rare archive footage and photos, along with interviews from those close to Fischer as well as figures such as Gary Kasparov and Henry Kissinger.
I recently spoke to Liz in London at the offices at Dogwoof, who are releasing the film in the UK, and you can listen to the interview by clicking below:
[audio:http://filmdetail.receptionmedia.com/Liz_Garbus_on_Bobby_Fischer_Against_The_World.mp3]
You can also download this interview as a podcast via iTunes by clicking here.
Dogwoof release Bobby Fischer Against The World at selected UK cinemas on July 15th
> Download this interview as an MP3 file
> Official website for Bobby Fischer Against The World
> Get updates for the film via Facebook and Twitter
> Find out which local cinemas are playing the film
> Follow Dogwoof on Twitter
> Find out more about Bobby Fischer at Wikipedia