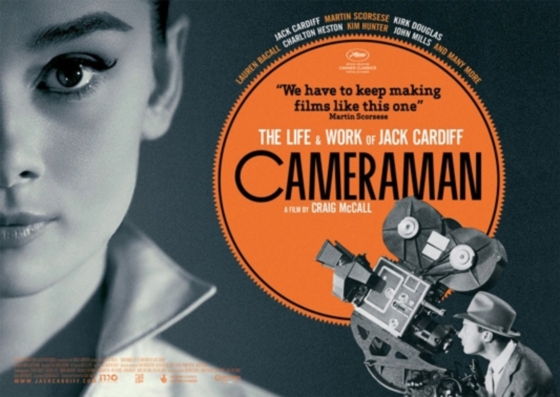 Cameraman: The Life and Work of Jack Cardiff is a new documentary from director Craig McCall that explores the career of one of Britain's most famous cinematographers.
With a career that spanned the development of cinema, taking in silent film and the advent of Technicolor he worked with luminaries such as Michael Powell, John Huston, Alfred Hitchcock, Marilyn Monroe, John Wayne, Humphrey Bogart and Audrey Hepburn.
On films such as A Matter of Life and Death (1946), Black Narcissus (1947), The Red Shoes (1948) and The African Queen (1951) he established himself as a world class talent and in 2001 he became the first cinematographer to receive an honorary, Lifetime Achievement Oscar® for:
"Exceptional contributions to the state of motion picture arts and sciences; and for outstanding services to the Academy."
Director Craig McCall has been working on this documentary for several years, interviewing Jack himself (who passed away last year) and various admirers including Martin Scorsese, Thelma Schoonmaker, Kathleen Byron, Kim Hunter, Moira Shearer, John Mills, Lauren Bacall, Charlton Heston and Kirk Douglas.
I spoke with Craig recently about the film and you can listen to the interview here:
[audio:http://filmdetail.receptionmedia.com/Craig_McCall_on_Cameraman_The_Life_and_Work_of_Jack_Cardiff.mp3]
You can also download this interview as a podcast via iTunes by clicking here
Cameraman: The Life and Work of Jack Cardiff is out now in the UK and will be screening at the following cinemas:
The film will be released on DVD on July 19th from Optimum and you can pre-order it from Amazon here.
You can also subscribe to our interview podcast via iTunes or RSS feed and if you have any questions just email me at podcast@filmdetail.com
> Download this interview as an MP3 file
> Official site
> Buy Cameraman: The Life and Work of Jack Cardiff on DVD from Amazon UK
> Search local cinema listings at Google Movies