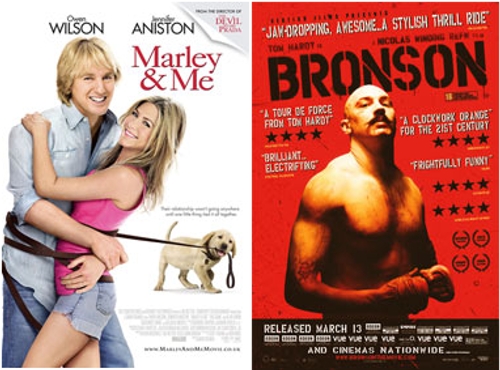 NATIONAL RELEASES
Marley And Me (20th Century Fox): Owen Wilson and Jennifer Aniston star as two journalists who adopt a dog named Marley in this story adapted from the bestselling memoir of the same name by John Grogan.
Directed by David Frankel, it did stellar business at the US box office around Christmas and looks set to have similar success over here, powered by dog lovers and less discerning audiences. [Vue West End & Nationwide / Cert PG]
Bronson (Vertigo Films): A biopic of the criminal Charles Bronson – one Britain's most notorious prisoners. Tom Hardy takes on the central role and it is directed by Nicolas Winding Refn.
Vertigo will be hoping for good word of mouth, mostly based around Hardy's acclaimed performance, although the 18 certificate may limit its overall box office. [C'World Haymarket, Empire Leicester Sq., Odeon Covent Gdn & Nationwide / Cert 18]
[ad]
IN SELECTED RELEASE

The Burning Plain (Paramount):  The latest film from writer Guillermo Arriaga sees him make his debut behind the camera.
Like his previous work (Amores Perros, 21 Grams and Babel) this has a fractured narrative and stars Charlize Theron and Kim Basinger as two women in different parts of America struggling to deal with their lives.
It also stars Danny Pino, Jennifer Lawrence, Joaquim de Almeida, J.D. Pardo, Robin Tunney and Brett Cullen. 
Although some critics are going to take the predictable 'why can't he tell a straight story' line, it is actually an involving and well crafted tale with some fine visuals from DP's Robert Elswit and John Toll. [Key Cities / Cert 15]
Hush (Optimum Releasing): A low budget British horror film about a young couple on a motorway journey are drawn into a game of cat and mouse with a truck driver following a near accident. Written and directed by Mark Tonderai. [C'Worlds Enfield, Shaftesbury Ave., Wandsworth & Nationwide / Cert 15]
Alone aka Issiz Adam (Most Production): A Turkish film written and directed by Çağan Irmak which explores the lives of two people who live in Istanbul who happen to meet each other in a second-hand book shop. [Odeons Greenwich, Holloway Rd, Lee Valley & Panton St. Only / Cert 15]
In The City Of Sylvia (Axiom Films): A 2007 Spanish film – almost entirely devoid of dialogue – which follows a young man (credited only as 'El') as he scours suburban Strasbourg in search of Sylvia, a woman he asked for directions in a bar several years before.
Directed by José Luis Guerín and starring Xavier Lafitte and Pilar López de Ayala. [BFI Southbank, Curzon Soho & Key Cities / Cert PG]
Not Quite Hollywood (Optimum Releasing): A new documentary exploring the world of Australian exploitation cinema that began in the early 1970s. 
Directed by Mark Hartley it shows how a new generation of maverick filmmakers capitalised on the relaxing of censorship laws to create wilder films on smaller budgets. [ICA Cinema only / Cert 18]
* Listen to our interview with director Mark Hartley *
Wonderful Town (Soda Pictures):  Set in post-tsunami Thailand, the story deals with an architect (Anchalee Saisoontorn) who moves into a town to develop a construction project and begins an affair with a sensitive local girl (Supphasit Kansen). [ICA Cinema & Key Cities]
[ad]
> Get the latest showtimes for your local cinema via Google Movies
> Check out our latest DVD picks (W/C Monday 9th March)