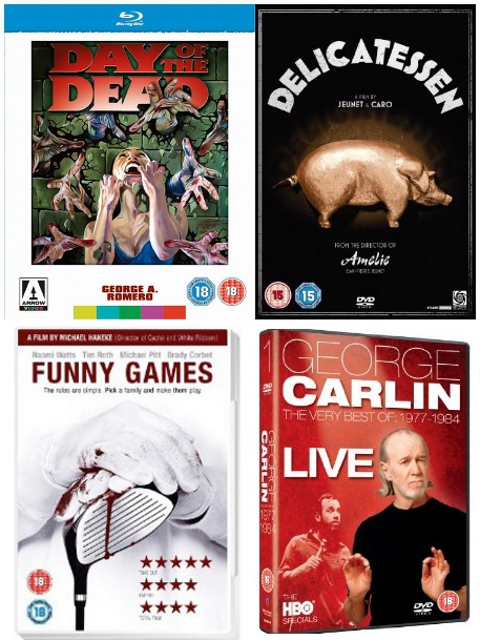 [ad]
DVD & BLU-RAY PICKS
Day of the Dead (Arrow Films): The third film in George A Romero's zombie trilogy has often been regarded as something of a letdown after the groundbreaking Night of the Living Dead (1968) and the iconic Dawn of the Dead (1978). It does lack the vitality of its predecessors but over the years has become a more telling satire of the Reagan era than many realised at the time.
Set inside an underground US military complex as zombies have overrun the earth, it explores the tensions between various army and scientific personnel as well as depicting the possibility of 'humanising' a zombie. Tom Savini's landmark make-up effects still hold up strongly and Romero's direction is smarter than some gave it credit for at the time. The Blu-ray comes with a raft of new extras including new commentaries and featurettes. [Buy the Blu-ray / Buy the DVD]
Delicatessen (Optimum Home Entertainment): With Jean-Pierre Jeunet's latest film Micmacs not getting the love or attention it deserved at UK box offices, Optimum have re-released the 1991 that put him on the map. Along with co-director Marc Caro, he crafted a delightfully surreal tale about a clown (Dominique Pinon) who moves into a run down apartment building with a delicatessen on the ground floor and falls in love with the butcher's daughter, Julie Clapet (Marie-Laure Dougnac).
Shot entirely in and around the delicatessen, it is inventive and displays a remarkable visual flair reminiscent of silent comedy and proved very influential, especially on subsequent TV commercials. I'm not sure why there isn't a Blu-ray version yet, but if you haven't already got the DVD it is highly recommended. [Buy the DVD]
Funny Games U.S. (Kaleidoscope Home Ent.): Michael Haneke's U.S. remake of his own 1997 film was a gruelling affair, even by his own dark standards, but remains a powerful piece of work. Made in 2007, it followed the exact same story with a well-to-do couple (Tim Roth and Naomi Watts) and their son who are slowly terrorised by two mysterious young thugs (Michael Pitt and Brady Corbett) whilst at their holiday home.
Some critics were appalled by what they saw as the pointless sadism of the film, but the fact that it provoked such a hostile reaction – often from the very bourgeois perspective the film directly assaults – was perhaps telling. It is a genuinely horrific film, with little in the way of catharsis or intellectual ambiguity, but remains a bracing and intriguing example of a director revisiting his own material for a different audience. [Buy the Blu-ray / Buy the DVD]
George Carlin: Collection – Volume 1 (Anchor Bay Entertainment UK): A collection of four of the great US comedians best stand up performances taped for HBO which include: George Carlin – On Location – University of Southern California (1977), George Carlin Again (1978), George Carlin at Carnegie (1984) and George Carlin on Campus (1984).
Brilliant observations about life are mixed with some hilarious social commentary and these groundbreaking performances demonstrate why he is still one of America's greatest comedians, just two years after his death. [Buy the DVD]
* N.B. The Lord of the Rings trilogy is out on Blu-ray this week and would normally be one of my picks. However, the box set consists of the theatrical cuts (with hardly any extras) and I'd recommend waiting until the extended Blu-ray editions come out. *
ALSO OUT
30 Rock: Season 3 (Universal/Playback) [Buy the DVD]
Married, Single, Other (2 Entertain) [Buy the  Blu-ray / Buy the DVD]
The International (Sony Pictures Home Ent.) [Buy the Blu-ray]
Universal Soldier: Regeneration (Optimum Home Entertainment) [Buy the Blu-ray] 
Who Dares Wins (Arrow Films) [Buy the Blu-ray]
Battle Royale (Arrow Films) [Buy the DVD]
Big Bad Mama (In 2 Film) [Buy the DVD]
Burn Notice: Season 2 (20th Century Fox Home Ent.) [Buy the DVD]
Chappelle's Show: Season 2 (Best Medicine) [Buy the DVD]
Feast Trilogy (Optimum Home Entertainment) [Buy the DVD]
Forever Green: Series 2 (Network) [Buy the DVD]
Geisha Assassin (MVM Entertainment) [Buy the DVD]
Ghost Hunt: Complete Series 1 (Manga Entertainment) [Buy the DVD]
Ginger Baker and Friends: Live at the Jazz Cafe (Voiceprint) [Buy the DVD]
Laurel and Hardy: Collection (Lace) [Buy the DVD]
Le Professionnel (Optimum Home Entertainment) [Buy the DVD]
Smokin' Aces/ Smokin' Aces 2 – Assassin's Ball (Universal Pictures) [Buy the DVD]
The Bridge (Metrodome Distribution) [Buy the DVD]
> The Best DVD and Blu-ray releases of 2009
> UK cinema releases for Friday 2nd April including Clash of the Titans, How to Train Your Dragon and Kick-Ass