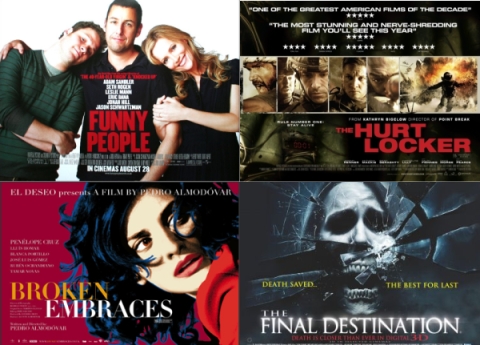 [ad]
NATIONAL RELEASES
Funny People (Universal): The latest film from director/producer Judd Apatow stars Adam Sandler as a comedian who starts to reassess his life after being informed he has a terminal illness. Co-starring regular Apatow collaborators Seth Rogen, Leslie Mann and Jonah Hill, it also features supporting turns from Eric Bana and Jason Schwartzmann.
It was a film that divided opinion in the US, with some praising its mix of drama and comedy whilst others were less keen, but after a strong opening weekend at the end of July, business dropped off quickly in subsequent weeks.
Universal will be hoping that UK cinemagoers will be pulled in by the star power of Adam Sandler and the promise of more Apatow-styled hilarity. Given the reasonable marketing campaign it is likely to do solid business but faces a good deal of competition from other national releases this Bank Holiday weekend. [Vue West End & Nationwide / Cert 15]
The Hurt Locker (Optimum Releasing): One of the most critically acclaimed films of recent years (an astounding 94 score on Metacritic) is this war drama about a US bomb disposal unit in Baghdad during the Iraq War in 2004. Directed by Kathryn Bigelow, it was written by Mark Boal, based on his experiences as a embedded journalist in Iraq.
It stars Jeremy Renner as the team leader of an Explosive Ordnance Disposal(EOD) unit and Anthony Mackie and Brian Geraghty as the troops assigned to cover him whilst he defuses the bombs that litter the city. Ralph Fiennes, Guy Pearce and David Morse all feature in key supporting roles and the film was shot by cinematographer Barry Ackroyd, who also worked on United 93 and various Ken Loach films over the years.
After premièring at the Venice film festival last September the film wqas acquired by Summit in the US and after a deliberately slow roll out has grossed a respectable (for an indie) $11m.
Optimum are the UK distributor and are giving this a decent push at the multiplexes as well as the arthouses, hoping to surf the enormous wave of critical acclaim and buzz which is likely to see it nominated at the Oscars next year. [C'world Shaftesbury Ave., Vues Finchley Rd., Islington & Nationwide / Cert 15]
* Listen to my interview with Kathryn Bigelow and Mark Boal *
Broken Embraces (Warner Bros/Pathe): The latest film from Spanish director Pedro Almodóvar is a 'romantic noir' spanning over 16 years (set in 2008, with flashbacks to 1992 and 1994) that focuses on a film director (Lluis Homar) who's lost the love of his life (Penelope Cruz) as well as his eyesight to a jealous lover.
Despite getting a relatively mixed reaction when it premièred at Cannes in May, the film does have its admirers and Pathe will be hoping that arthouse audiences will be keen to sample the latest film from one of Europe's most famous and acclaimed directors. [Nationwide / Cert 15]
The Final Destination (Entertainment): The 'final' chapter of the Final Destination franchise starts with a NASCAR race gone horribly wrong and then sees each teenage character who 'cheated' death get gruesomely killed off later.
Although a profitable money spinner for New Line (now under the larger control of Warner Bros.) this franchise now seems a little tired but studio chiefs will be eager to see how it does in 3-D. My guess is that it could do rather well (for this kind of film), so maybe we should prepare ourselves for more of its type in the future. [Vue West End & Nationwide / Cert 15]
[ad]
IN LIMITED RELEASE
Mesrine: Public Enemy Number One (Momentum Pictures): The second part of the diptych about French criminal Jacques Mesrine (Vincent Cassell) is set in the early 1970s, as the title character gets caught and becomes addicted to his own notoriety. [Curzon Soho, Ritzy, Picturehouse Clapham & Key Cities / Cert 15]
Jetsam (ICA Cinema): A low budget British thriller from first-time British director Simon Welsford about a woman washed up on to beach with no idea how she got there.
In The Realms Of The Senses
(bfi Distribution): A re-release from the BFI for this controversial 1976 Franco-Japanese film directed by Nagisa Oshima, which is a fictionalised treatment of an incident in 1930s Japan involving Sada Abe (the woman who cut over her lover's genitals and carried them around in her handbag). It garnered huge controversy during its release, not only for its subject matter but also for the fact that it contains scenes of unsimulated sexual activity between the lead actors (Tatsuya Fuji and Eiko Matsuda). [BFI Southbank & Key Cities / Cert 18]
> UK cinema releases for August 2009

> DVD & Blu-ray Picks for this week (including In the Loop and Shifty (W/C Monday 24th August)