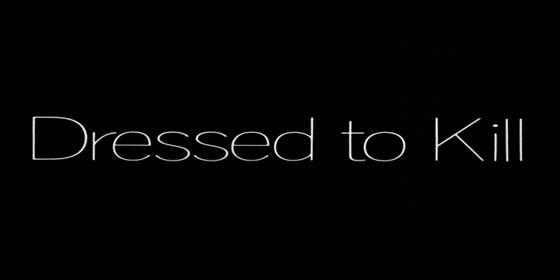 One of the best and most controversial films of Brian De Palma's career is this macabre erotic thriller.
When a sexually frustrated housewife (Angie Dickinson) meets a tall, dark stranger in a museum, she sets off a series of events which involve a prostitute (Nancy Allen), her psychiatrist (Michael Caine) and her son (Keith Gordon).
Throughout his career De Palma was often accused of misogynistic violence and ripping off Hitchcock and this probably represents the apex of that period.
The debts to Hitchcock are clear: the shower scenes and narrative owe a debt to Psycho (1960) and the museum sequence is a straight homage to Vertigo (1958).
Despite this, I've long held the view that De Palma, at his best, is much more than just a Hitchcock imitator.
Although he channels the master of suspense, he adds his own signature touches and – at his best – the end result was different enough to justify accusations of mere imitation.
There are several memorable scenes: the bravura dialogue-free scene in the museum, a murder in an elevator, and a cat-and-mouse chase in a subway all provide ample evidence of the director's skill.
He also manages to elicit some fine performances from his cast: Dickinson brings a glamorous, flawed grace to her part, Caine is suitably enigmatic, Gordon has a geeky, sly charm and Allen is excellent in what could have been a token prostitute role.
The only supporting performance that rings a little false is Dennis Franz (a De Palma regular at this time) as the seen-it-all New York detective, but even his character has an enjoyable twist.
This new UK release from Arrow Video is the full uncut version, which means the graphic opening showering scene and some of the violence and offending language is back in.
Although this was De Palma's intended cut you can see why it triggered controversy at the time, principally amongst feminists and the gay community, as the film is a provocative mix of sex, killing and suspense that is artfully rendered.
When it was released in the UK it had the misfortune to open around the time of the Yorkshire Ripper killings, thereby increasing the backlash against it.
It still has a lurid atmosphere, though not a creepy one, and the stylised cityscape and shadowy interiors are all part of the way in which De Palma pushes the buttons of an audience. For some he pushed too hard.
Pino Donaggio's lush score adds a rich texture to the film, with strings and piano cleverly offsetting some of the sleazy horrors on screen.
Dressed to Kill in some ways is the quintessential De Palma film: full of carefully constructed suspense, Hitchcock references and a sly gallows humour (what long time devotee Pauline Kael called the "alligator grin" in his work).
Although he would continue in this vein with Blow Out (1981) and Body Double (1984), he opted for larger scale crime dramas such as Scarface (1983) and The Untouchables (1987).
But there remains something distinct about this point in his career when he was allowed the creative freedom to put his vision on screen.
BONUS FEATURES
High Definition Blu-ray (1080p) presentation of the feature.

Optional original uncompressed Mono 2.0 Audio and DTS-HD Master Audio 5.1 Surround Sound.

Symphony of Fear: Producer George Litto discusses his working relationship with Brian De Palma.

Dressed in White: Star Angie Dickinson on her role in the film.

Dressed in Purple: Star Nancy Allen discusses her role in the film.

Lessons in Filmmaking: Actor Keith Gordon discusses Dressed to Kill.

The Making of a Thriller – A documentary on the making of Dressed to Kill featuring writer-director Brian De Palma, George Litto, stars Angie Dickinson, Nancy Allen and Dennis Franz.

Unrated, R-Rated, and TV-Rated Comparison Featurette.

Slashing Dressed to Kill – Brian De Palma and stars Nancy Allen and Keith Gordon discuss the changes that had to be made to avoid an X-rating.

Original Theatrical Trailer.

Gallery of behind-the-scenes images.

Reversible sleeve with original and newly commissioned artwork by Nathanael Marsh.

Collector's booklet featuring new writing on the film by critic and author Maitland McDonagh, and a new interview with poster designer Stephen Sayadian by Daniel Bird, illustrated with original archive stills and promotional material.
Dressed to Kill is out today from Arrow Video
> Buy it on Blu-ray from Amazon UK
> Brian De Palma at the IMDb and Wikipedia