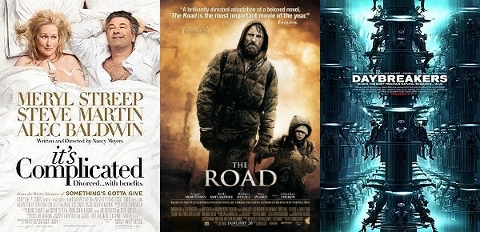 [ad]
NATIONAL RELEASES
It's Complicated (Universal): A romantic comedy in which a self-reliant divorcée (Meryl Streep) with three grown children ends up in a romantic triangle with her ex-husband (Alec Baldwin) and an architect (Steve Martin).
Directed by Nancy Meyers (The Holiday, Something's Gotta Give) it is aimed squarely at the female market and Streep has even been pushed for some OScar and BAFTA consideration. Universal will expect healthy business from the expected audiences although adverse weather conditions could impact the box office. [Odeon West End & Nationwide / 15]
The Road (Icon): The film adaptation of Cormac McCarthy's devastating 2006 novel depicts the journey of a father (Viggo Mortensen) and son (Kodi Smit-McPhee) as they struggle to stay alive in an America which has descended into savagery after an unspecified environmental and social collapse.
Given that the story involves suicide, cannibalism and humans acting like savages you have to give credit to director John Hillcoat (who made the wonderfully gritty Australian western The Proposition in 2005) and screenwriter Joe Penhall (author of the acclaimed play Blue/Orange) for properly translating the horrors and emotions of the novel into a film. Icon will be another UK film distributor cursing the weather and the bleak subject matter is another challenge that has dogged this film. That said, it is based on a major bestseller and is a timely and moving drama. [Vue West End & Nationwide / 15]
* Listen to our interview with Joe Penhall about adapting The Road *
Daybreakers (Lionsgate): A sci-fi horror set in the year 2017, after a plague has transformed nearly all humans into vampires. Faced with a dwindling blood supply, the fractured dominant race plots their survival whilst a researcher (Ethan Hawke) works with a covert band of vampires on a way to save humankind.
Directed by Michael Spierig and Peter Spierig, it co-stars Willem Dafoe and Sam Neill. Although DVD is probably where this will make its real cash, the concept could see it do reasonable theatrical business. [Vue West End & Nationwide/ 15]
Sex & Drugs & Rock & Roll (Entertainment): A music biopic of Ian Dury starring Andy Serkis in the lead role which follows Dury's rise to fame and documents his personal battle with polio.
The title of the film is derived from the classic 1977 hit, "Sex & Drugs & Rock & Roll" and although word of mouth on this hasn't been stellar, it could appeal to a certain audience (i.e. readers of Mojo and Uncut). [Nationwide / 15]
[ad]
ALSO OUT
It Might Get Loud (Blue Dolphin): A documentary by Davis Guggenheim which explores the history of the electric guitar, focusing on the careers and styles of Jimmy Page, The Edge, and Jack White. [Odeon Panton St. & Nationwide / PG]
Exam (Hazeldine Films/Miracle): A British horror film about eight talented candidates for a job interview at a mysterious corporation who have 80 minutes to answer one simple question with three rules. [Key Cities / 15]
Mugabe and the White African (Dogwoof): Documentary directed by Lucy Bailey and Andrew Thompson that explores a white Zimbabwean family's stand against Robert Mugabe's land reform campaign. [ICA Cinema & selected Key Cities]
Treeless Mountain (Soda Pictures): Korean film from director Kim So Yong about two young sisters sisters who have to live with their aunt and grandmother after their mother leaves them.  [Renoir & Key Cities / 15]
Fireball (Premiere Films): Bollywood film directed by Thanakorn Pongsuwan and starring Preeti Baraneean [Key Cities]
Mitti (Eros): Bollywood film of which there is little information to be found via Google. [Cineworlds Feltham, Ilford & Key Cities / 12A]
> Get local cinema showtimes for your area via Google Movies
> UK DVD & Blu-ray picks including District 9 and The Hurt Locker