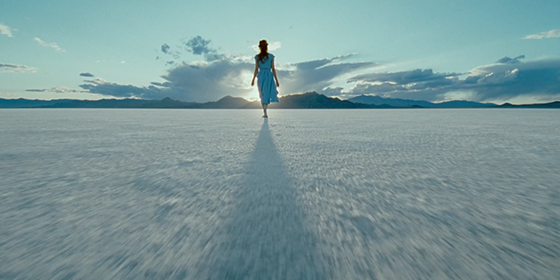 UK cinemagoers can now finally see Terrence Malick's latest film but how does it hold up after all the buzz and anticipation?
Ever since his debut Badlands (1973) screened to acclaim at the New York Film Festival nearly 40 years ago, a Terrence Malick film has become something of an event.
One of the most audacious directorial debuts in US cinema was followed five years later with Days of Heaven (1978), a troubled production which fortunately yielded one of the most visually remarkable films of the 1970s.
Then there followed a twenty year period where Malick didn't make any movies, a time which stoked his legend and made people revisit the extraordinary beauty and craftsmanship of his work and cemented his place in the canon of American cinema.
Just when it seemed he would become the J.D. Salinger of US cinema, in the mid-90s it emerged that he was actually returning with an adaptation of the World War II novel The Thin Red Line (1998), which has the distinction of being one of the greatest and most unusual war films ever released by a major studio.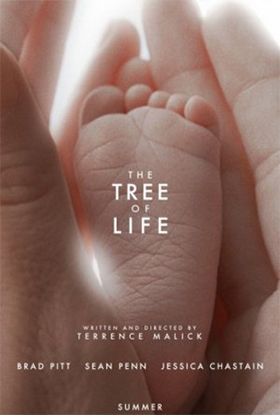 Six years later he made The New World (2005), a retelling of the Pocahontas story which contained the same slow-burn ecstasy as his previous work along with some breathtaking use of imagery and music.
Malick remains an enigma as his refusal to do any publicity or play by conventional Hollywood practice is matched by an extensive network of admirers and supporters throughout the very system he flouts.
Up to this point his forty year career has been highly singular.
Not since Stanley Kubrick has a filmmaker achieved such creative control nor inspired such reverential awe amongst his peers and true cineastes.
Financing for this film was presumably a bit trickier than his last two, but River Road Entertainment and producer Bill Pohlad managed to raise the reported $32 million budget and followed the recent Malick formula of casting a big star alongside talented newcomers.
The production was three years in the making, with the bulk of photography taking place in 2008 and various other elements stretched out until it eventually premièred at Cannes back in May.
One of the most hotly anticipated festival screenings in years, it seemed to divide initial reaction at the festival (it was both booed and cheered at the press screening in the morning), but with high praise from experienced trade critics, the film was rapturously received at the evening premiere and went on to win the Palme d'Or.
Malick was actually spotted at the festival, but the producers accepted the award on his behalf and there was a wonderful symmetry to The Tree of Life winning a trophy of golden leaves.
Over the last few weeks Fox Searchlight have given it a platform release and amongst discerning film goers it has become one of the must-see events of the summer.
After all, this is a work by one of America's most revered directors featuring one of the biggest movie stars on the planet.
But exactly is The Tree of Life all about?
It charts the memories of an architect (Sean Penn) as he remembers his childhood growing up in 1950s Texas, with two contrasting parents: his stern father (Brad Pitt), loving mother (Jessica Chastain) and two brothers.
At the same time, there is an extended sequence which explores the beginnings of creation and the development of life.
But the surprising aspect of the film is how these seemingly disparate strands do actually mesh.
Whilst it may divide opinion, there is nothing here that should perturb anyone with a genuinely open mind.
It is difficult to discuss specific story points without spoilers, but this is not some kind of art house indulgence but an inspired meditation on human existence and memory.
The signature Malick motifs are here: internal monologue voiceover, magic hour visuals and elliptical editing, and it follows themes he has previously explored, such as life, death and the nature of man.
Here Malick explores how life began but also asks the more pressing question of how death affects how we live our lives: should we embrace the selfish instinct to merely survive or a more compassionate approach to appreciate the present?
These two ways are embodied in the characters of the father and mother but also relate to any living thing in the history of the world, which is why the inclusion of Malick staples such as creatures and plants is not only appropriate but significant.
That the film relates these to the story of Penn's character and his memories of childhood is part of its particular wonder: it is almost as if Malick was born to make this.
Parallels have been drawn to the director's own life story and there is no doubt that this is an acutely personal film which I suspect has been brewing inside of him for a very long time.
Some viewers of a particular experience may find certain sequences hit home with an almost unbearable emotional intensity.
But the lasting power of The Tree of Life is how manages to find the universal within the particular.
Viewers may be jolted by the juxtaposition of the cosmic with the domestic, but aren't experiences of childhood and our later memories filled with such existential questions?
Is there a creator? Why are we born in order to die? What happens in the afterlife?
These are pretty big questions and the fact that Malick tackles them head on with an admirable lack of detachment is actually amazing in this day and age of recycled narratives and endless sequels.
Cinema is a medium wonderfully suited to getting inside people's thoughts and feelings and Malick is a past master at capturing both the internal and external landscapes of the human experience.
That he does so again here with his impeccable artistry is to be richly savoured as the technical achievements of The Tree of Life are extraordinary.
For the Texas sections, cinematographer Emmanuel Lubezki creates stunning images with a fluid intimacy that captures both the wonder of growing up and the internal emotions and memories of the major characters.
He used natural light and Steadicam to amazing effect in The New World (2005) and here he repeats the ecstatic brilliance of that film with photography that is appropriately transcendent.
The actors respond with considerable distinction: Pitt captures the simmering frustration and deep love of a stern but loving father; Chastain is magnetic as the ethereal mother; whilst the child actors – Hunter McCracken, Tye Sheridan and Laramie Eppler – fully convince. (Incidentally, Eppler looks uncannily like Pitt, although they aren't related).
Pitt is cursed with a celebrity that often overshadows his acting work, but his performance here is quietly brilliant: his changing moods and inner conflicts are powerful to watch and this is his best work since The Assassination of Jesse James by the Coward Robert Ford (2007).
Penn has a much smaller role but he is a key presence and powerfully depicts a haunted, introspective man reflecting on his life. His role is brief in terms of screen time, but he is an important lynchpin for what happens.
Malick fans may like to note that Penn's sequences are the only one Malick has ever set in the present – all of his previous films have been period pieces and there is a weird jolt at seeing mobile phones and skyscrapers here.
As for the scenes involving the rather large subject of the creation of mankind, they not only convince but provide something of a master class in the visual effects work of the last forty years.
Supervised by Dan Glass, they are genuinely awesome blend of high-resolution optical photography, modern CGI and unspecified trippy stuff which looks like nothing I've ever seen on a cinema screen.
The presence of VFX pioneer Douglas Trumbull on the effects team is obviously going to invite comparisons to Kubrick's 2001: A Space Odyssey (1968) but I suspect his own film Brainstorm (1983) may have also been an influence in hiring him (although a forgotten sci-fi thriller it has sequences which visualise similar themes).
There is a grand sweep to the creation sequences which involves spectacular footage of natural phenomena, both in space and on earth: planets, meteors, volcanic eruptions, waterfalls, microscopic cells, jellyfish and even dinosaurs are all used.
Careful viewers may actually notice how they link to the Texas story, as there appear to be subtle visual and thematic clues between the creation of life and the individual lives depicted on screen.
Some stunning sound work throughout the film also helps anchor two seemingly disparate worlds, as the rumblings of nature and space are contrasted with the carefully constructed scenes of the family at home. (Malick aficionados might want to listen carefully for a particular recurring sound that also appears in the The Thin Red Line).
Although Alexandre Desplat worked on a score, Malick has opted to go for a score filled with classical composers, such as Bach, Berlioz, Smetena, Mahler, Holst, Górecki and John Tavener.
Again there may be comparisons to Kubrick, but Malick has his own style and edits to music like no other filmmaker working today, including some exhilarating sequences as the young boys grow up.
The period feel of 1950s small-town Texas is expertly captured by production designer Jack Fisk and the costumes by Jacqueline West give it a vivid period feel, which neatly evokes the power of childhood memories.
The Tree of Life is not a film that will be embraced by everyone and I suspect some may resent the fact that this is pure, distilled Malick with no compromise to conventional Hollywood storytelling clichés.
It is unashamedly ambitious and emotional, which are two qualities that put some audiences immediately on the back foot.
But there is a compelling story here, which is clearer than one might initially think – it just happens to be told in an unconventional way.
Malick has always made films built to last, even if recurring themes and motifs have vexed some viewers of his most recent work.
But the mere existence of this film in 2011 is almost as miraculous as the mysteries depicted within it.
A sublime work in the truest sense of the word, its beauty, vastness and grandeur make it quite something to behold.
It will probably be debated and thought about for a long time, which is entirely appropriate as it both reflects the questions and feelings of life itself.
> Official site and Tumblr blog
> Reviews of The Tree of Life at Metacritic
> Find out more about Terrence Malick at Wikipedia