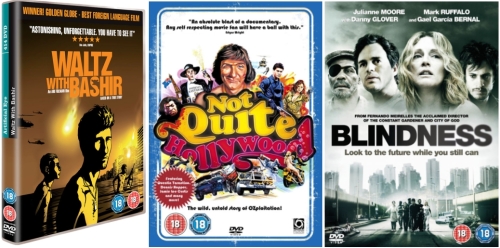 DVD PICKS
Waltz With Bashir (Artificial Eye): One of the most remarkable films to be released in the last year deals with the memory of Israeli soldiers involved in the invasion of Lebanon in the early 1980s and the 1982 Sabra and Shatila massacre. 
Directed by Ari Folman, it examines his own experiences on that mission and the struggle to remember what happened when he interviews various army colleagues from the time.
The strange title is taken from a scene with one of Folman's interviewees, who remembers taking a machine gun and dancing an 'insane waltz' amid enemy fire, with posters of Bashir Gemayel lining the walls behind him.
Gemayel was the Lebanese president who whose assassination helped trigger the massacre. The most unusual and startling aspect of the film is that it is animated, an unconventional approach for what is essentially a documentary.
Although very different in theme and tone to Creature Comforts it appears to adopt the same device in which real conversations are animated and stylised. 
A hugely ambitious film, it took four years to complete and is and international co-production between Israel, Germany and France.
Back in May it premiered to huge acclaim at Cannes and was one of the front runners to win the Palme d'Or. Much of that praise was richly deserved because this is an arresting and highly original film.
It deserves particular credit for taking a highly politicised and contentious event and yet somehow makes a wider point about the futility of war whose relevance is not just confined to the cauldron of the Middle East.
Another aspect which makes this story so intriguing is that the Israeli troops were not guilty of the massacre itself, but of standing by and letting Lebanese miltia murder Palestinian refugees. 
It is the memory of, or rather the inability to remember, this event that lies at the core of the story. Has Folman unconsciously blocked out the memory? Does guilt cloud any rational perspective? 
The raw power of the source material is enhanced by some extraordinary imagery, with a remarkable and inventive use of colour for certain sections, especially those involving the sea.
Added to this is Folman's narration which has an almost hypnotic effect when set alongside the visuals, almost as if the audience is experiencing a dream whilst watching the film itself. 
The film won 6 Israeli Film Academy awards (including Best Picture) and was nominated for Best Foreign Film at the Oscars.
It might seem like a strange film to make about such a serious subject but it's surreal approach only makes the horrors of war seem all too real.  
The DVD and Blu-ray discs include the following extras:
DVD
1.78:1 Anamorphic Widescreen
Dolby Digital 5.1
Interview with director Ari Folman
Theatrical Trailers
Blu-ray Disc
1080P 1.78:1 Widescreen
Dolby Digital 5.1 & DTS-HD Master Audio
Interview with director Ari Folman
'Making of' documentary (70minutes)
Deleted Scenes
Theatrical Trailers
* Listen to our interview with director Ari Folman here *
Not Quite Hollywood (Optimum): A highly entertaining documentary exploring the world of Australian exploitation cinema that began in the early 1970s. 
Directed by Mark Hartley it shows how a new generation of maverick filmmakers capitalised on the relaxing of censorship laws to create wilder films on smaller budgets.
Whilst more refined directors like Peter Weir achieved worldwide acclaim with films like Picnic At Hanging Rock, more maverick directors and actors created a crazier breed of exploitation movie. 
The film explores how films like Alvin Purple, Barry McKenzie Holds His Own, Dead-End Drive In, Long Weekend, Mad Max, The Man from Hong Kong, Patrick, Razorback, Roadgames, Stork and Turkey Shoot all contributed to a new era of Aussie cinema.  
Extras on the disc inlcude:
1.78:1 Anamorphic Widescreen
English DD5.1 Surround
Commentary with writer/director Mark Hartley and Oxploitation auteurs
Ozploitation panel at MIFF
Quentin Tarantino speaks with Brian Trenchard-Smith
UK Exclusive Interview with Mark Hartley
Theatrical trailer
Original ozploitation trailers
* Listen to our interview with Mark Hartley here * 
Blindness (Pathe): The film adaptation of the 1995 novel by José Saramago explores a society suffering an epidemic of blindness.
Directed by Fernando Meirelles it stars Julianne Moore, Mark Ruffalo , Danny Glover and Gael Garcia Bernal as a group of people struggling to survive amidst the chaos that ensues.
Whilst at times the film may be too bleak for some viewers, it is a much better film that its mixed reception at Cannes last year might have believe, with fine performances from the leads and some excellent visuals.
The extras include:
'A Vision of Blindness' – 50 minute making of documentary
Deleted scenes with director's introduction
Theatrical trailer
* Listen to our interview with Fernando Meirelles about the film here *
[ad]
ALSO OUT
10 Days to War (2 Entertain)
A Time To Love and A Time To Die (Masters of Cinema)
Blood on the Sun (Network)
Body of Lies (Warner)
Changeling (Universal)
Derek (BFI)
Dexter – Season 2 (Paramount)
Driftwood (Anchor Bay)
Flawless (Metrodome)
Flesh and Fury (Eureka)
Free Agents (C4 DVD)
Henry Poole is Here (Sony)
Lakeview Terrace (Sony)
Manhunt (Metrodome)
Mistresses – Series 2 (2 Entertain)
Muriel ou le Temps d'un retour (Eureka)
My Best Friend's Girl (Lionsgate)
Nighthawks / Strip Jack Naked (BFI)
Of Time and the City (BFI)
Patti Smith Dream of Life (BFI)
Rivals (Optimum)
Salaam Bombay (Arrow)
Splinter (Icon)
The Express (Universal)
The Secret Life of Bees (Fox)
The Trail of the Lonesome Pine (Eureka)
The Wild Geese – Special Edition (Arrow)
Unnatural Causes (Sony)
[ad]
> Buy Waltz With Bashir, Not Quite Hollywood and Blindness at Amazon UK
> Browse more DVD Releases at Amazon UK and Play
> Check the latest DVD prices at DVD Price Check
> Take a look at the current UK cinema releases (W/C Friday 27th March)