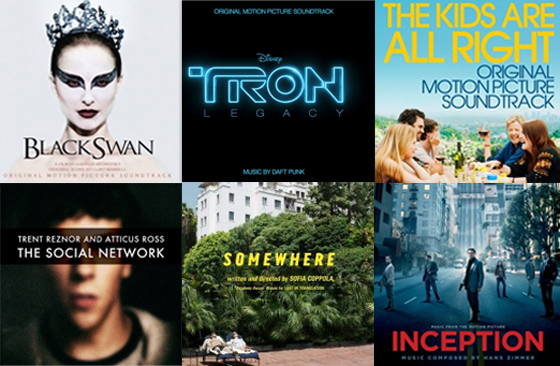 My favourite film music of the year included albums by Trent Reznor, Hans Zimmer and Daft Punk, whilst tracks by various artists including Zack Hemsey and Grizzly Bear also stood out.
BEST SOUNDTRACKS
Tron Legacy (EMI): The sequel to Tron was a mixed bag (great visuals, mediocre script) but the score by Daft Punk was unbeliveably epic, fusing their trademark electronica with an orchestra. [Amazon / YouTube]
Inception (Reprise): Hans Zimmer's score for Christopher Nolan's sci-fi blockbuster mixed electronic elements, strings and the guitar of Johnny Marr to brilliant effect. [Amazon / YouTube]
The Social Network (Pid): Trent Reznor and Atticus Ross gave David Fincher's film about the origins of Facebook a dazzling electronic flavour, at turns pulsating and atmospheric. [Official site / Amazon / YouTube]
The Kids Are Alright (Lakeshore Records): A traditional, but shrewdly assembled collection of traditional and modern songs (featuring the likes of MGMT and David Bowie) which fitted the themes of Lisa Colodenko's film perfectly. [Amazon / YouTube / The Playlist]
Greenberg (Parlophone): A solid collection of songs from James Murphy alongside tracks by The Steve Miller Band, Duran Duran, Nite Jewel and Galaxie 500. [Amazon / YouTube]
127 Hours (Polydor): Danny Boyle films usually have a memorable soundtrack and this is no exception, featuring music from A.R. Rahman and tracks by various artists including Free Blood, Bill Withers and Sigur Ros. [Amazon / YouTube]
Black Swan (Sony): For Darren Aronofsky's reworking of Swan Lake, Clint Mansell reworked elements of Tchaikovsky's original music to spectacular effect. [Amazon / YouTube]
N.B. The soundtracks for Somewhere and Blue Valentine would have easily made the list if they were available to purchase in the UK.
PLAYLIST
The following tracks are not all directly from soundtracks, but may also have featured on trailers and TV spots for various films.
You can download most of these tracks as a Spotify playlist here or just click on the relevant links to listen to them.
If you have any pieces of film related music you want to share, leave a comment below.
> The Best Films of 2010
> The Best DVD & Blu-ray releases of 2010