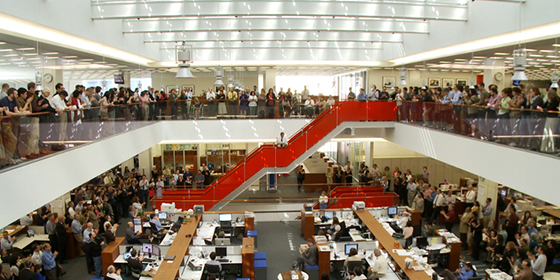 Page One: Inside The New York Times is a new documentary about the challenges facing the famous US newspaper in the digital age.
Director Andrew Rossi was granted access to parts of the paper during an eventful year, which included the Wikileaks affair, US troops pulling out of Iraq, the decline of US print journalism and the rise of Twitter.
As newspapers go out of business, the film also focuses on two contrasting media reporters, David Carr and Brian Stelter, as they report on the emerging realities of the Internet era and the struggle news institutions, such as their own, face as traditional advertising revenues decline.
Andrew Rossi previously directed the HBO documentary Le Cirque: A Table In Heaven (2007) and was was also associate producer on Control Room (2004).
I spoke with him recently in London about his new film and you can listen to the interview by clicking below:
[audio:http://filmdetail.receptionmedia.com/Andrew_Rossi_on_Page_One_Inside_The_New_York_Times.mp3]
You can also download this interview as a podcast via iTunes by clicking here or get the MP3 directly here.
Page One: Inside The New York Times is released by Dogwoof at selected cinemas on Friday 23rd September
> Get details of screenings in your local area
> Download this interview as an MP3 file
> Official website
> Reviews of Page One at Metacritic
> Find out more about the New York Times at Wikipedia