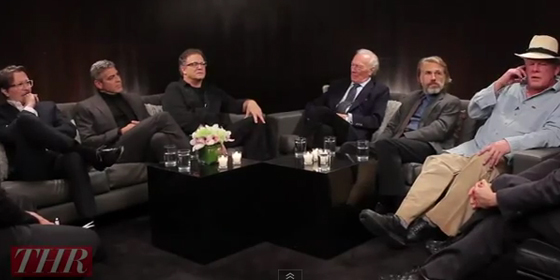 The Hollywood Reporter have posted the full video of their awards season round table with various actors in this year's Oscar race.
It includes George Clooney (The Descendants and The Ides of March), Christopher Plummer (Beginners), Gary Oldman (Tinker Tailor Soldier Spy), Christoph Waltz (Carnage), Albert Brooks (Drive) and Nick Nolte (Warrior).
As you can imagine this kind of gathering makes for a pretty fascinating discussion, especially as it lasts just over an hour:
It zig and zags across various issues but here's a mini-breakdown of the highlights:
Oldman on being asked to play Charles Manson, the influence of his mother and the Bryan Forbes film that inspired a
Plummer on playing King Lear on stage, the most challenging role he's played, being 80 and what makes actors great.
Clooney on becoming an actor, the career of his aunt Rosemary Clooney and making challenging films.
Nolte on getting old, 48 Hours, not finding work, repertory theatre companies and a great story about Barry Lyndon.
Brooks on the psychology of stardom, why Jack Benny was his idol and the overall social value of acting.
Waltz on finding success relatively late in his career, his roles after Inglourious Basterds and the nature of acting.
> The Hollywood Reporter
> Latest on the awards season at Awardsdaily and In Contention