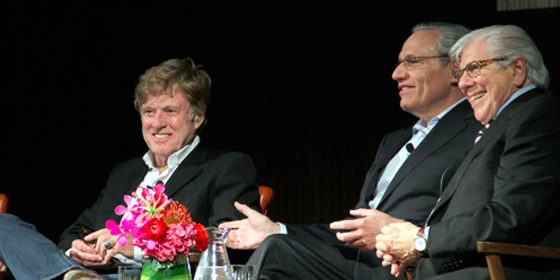 Back in April 2001 Robert Redford, Bob Woodward, and Carl Bernstein recognised the 35th anniversary of All the President's Men at the LBJ Presidential Library.
The three sat down for a lengthy discussion (around 80 minutes) and shared numerous anecdotes about Watergate and the subsequent film, including:
How Redford first heard about the affair in 1972.
Why the differences between Woodward and Bernstein appealed to Redford.
The reason the film focused on just a part of the investigation.
The book actually came out before Nixon resigned.
Redford becoming 'obsessed' with the material.
How Jason Robards was eventually cast as editor Ben Bradlee after his initial reluctance.
The reaction of the journalist duo when they finally saw the film.
You can watch the full discussion here:
> Buy the Blu-ray or DVD from Amazon UK
> Find out more about the Watergate scandal at Wikipedia